Over at Lenovo, summer has ended with a bang. In preparation for the big IFA consumer-technology conference, which starts Friday in Berlin, Lenovo last week introduced no fewer than 9 new PC products.
Wondering what's new from Lenovo? Here's your tech provider's roundup. Note: because the devices are being shown in Germany, all prices were announced in euros. For the convenience of our U.S. readers, we've converted them here to US dollars:
IdeaPad laptops
Lenovo introduced two 13-inch laptops, both of which will be offered with the new 10th Gen Intel Core mobile processors and up to 16GB of DDR4 memory:
> The IdeaPad S340 weighs 2.8 lb., comes in 3 colors, offers Dolby front-facing mics, and has a battery life promised at up to 8 hours. Pricing and availability haven't been announced yet.
> Its companion, the IdeaPad S540, adds a QHD display, a choice of Cortana or Alexa voice assistants, motion-sensing IR camera, and an AI-powered featured called Q-Control that uses machine learning to monitor tasks running in background mode for longer battery life. It weighs 2.6 lb. Shipments begin in October with retail prices starting at €799 (approximately $876).
IdeaCentre all-in-one desktop
The IdeaCentre A540 is Lenovo's new and stylish all-in-one Windows 10-based desktop PC. Under the hood you'll find a 9th Gen Intel Core processor. There's also a choice of 2 display sizes: 24 or 27 inches.
The device's base station doubles as a wireless charging station for Qi-certified smartphones and tablets. Charging works even when the PC is switched off.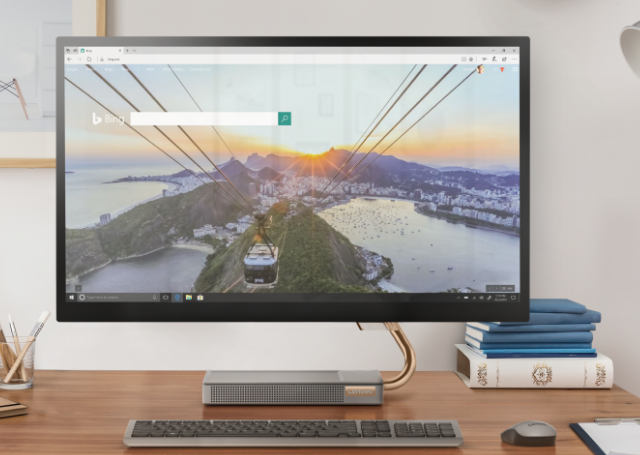 Other nice features on the A540 include JBL speakers, a QHD display option and integrated privacy shutter.
Shipments of the A540 will begin later this month, with retail prices starting at €799 (approximately $876) for the 24-inch model and €999 (approx. $1,096) for the 27-incher.
Chromebooks
Lenovo's Chromebook line now includes these 2 new models:
> Chromebook C340: This 2-in-1 laptop features a compact 11-inch display on a 360-degree hinge. If that's too small, there's also a 15-inch option that weighs about 4.4 lb. Either way, you can get processing power from up to an Intel Core i3 CPU. It's available now for €299 (approx. $328) for the 11-incher, and €449 (approx. $492) for the 15-incher.
> Chromebook S340: This Chrome OS laptop offers a 14-inch display, a choice of Intel CPUs, and a battery life of up to 10 hours. It weighs about 3 lb. The S340 is available now for €299 (approx. $328).
Android tablets
Lenovo says these 2 new devices are intended for millennial families:
> Tab M7: This 7-inch tablet is designed for fast web browsing and video playback. It weighs just 236 g. (approx. 0.5 lb.), and battery life is promised at up to 10 hours of video playback. Shipments will begin in October with retail prices starting at €99 (approx. $109).
> Tab M8: Similar to the M7, but with a longer 12 hours of video playback time. It also offers higher-resolution screens, both HD and FHD. With HD, the device will retail for €139 (approx. $152); and with FHD, for €159 (approx. $174). Shipments are set for October.
Displays
These are the 2 new entries to Lenovo's line of PC displays:
> L28u monitor: This 28-inch display can be used for both PC work and TV viewing. Cool features include anti-glare technology said to minimize eye fatigue. Shipments are set for October with retail prices starting at €349 (approx. $383).
> G34w gaming monitor: A curved 34-incher, this monitor offers panoramic Wide Quad HD clarity for serious gaming and movie-watching. This display won't ship until February of next year; retail prices will start at €599 (approx. $657).
Back to top