Technically, CES 2020 doesn't get started until tomorrow, Jan. 7, but the big guns are already introducing exciting new computing devices.
That includes HP. Yesterday the company introduced 3 PCs that incorporate new features including 10th Gen Intel Core processors, 5G and an app that helps users find misplaced or lost devices.
Here's your tech provider's update:
This Win10 convertible features a 15.6-inch 4K OLED display, up to a 10th Gen Intel Core i7 processor, Nvidia GeForce graphics, and Wi-Fi 6 connectivity. Battery life is promised at up to 17 hours.
HP Spectre x360 15: 10th Gen Intel Core on board
The device's 360-degree hinge lets the user arrange the Spectre in laptop, tablet, media player or tent modes.
HP has security in mind. This device features a webcam kill switch, mute mic button, and fingerprint reader.
Shipments of the Spectre x360 15 are set to begin in March, with retail prices starting at just under $1,600.
This all-in-one device is designed for content creators. For starters, there's a 31.5-inch 4K display, boosted with Nvidia GeForce RTX 2080 graphics. Compute power comes from a 9th gen Intel Core i7 processor.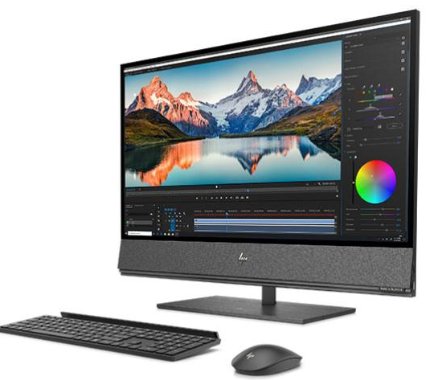 HP ENVY 32 AiO: all-in-one PC for content creators
For audio, the device has built-in tweeters and a subwoofer, supplied by the audio wizards of Bang & Olufsen. No extra speakers are needed for editing. You can also use the speakers for streaming music from a phone, even when the Envy device is powered off.
The monitor's base also functions as a wireless charging station for compatible phones. You simply lay the phone on the base, and it charges up.
The device's multitasking keyboard lets the user connect up to 3 devices and easily switch from 1 to another. Pretty cool.
There are ports galore: Thunderbolt 3, USB-C, USB-A, 2 HDMIs and Ethernet
Available now, the ENVY 32 retails for $1,600 and up.
HP introduced this lightweight notebook PC back in September, but what seems to be new is a feature called Tide. It's a "smart location" app that helps users find the device if it's misplaced or lost. Also new is optional 5G connectivity.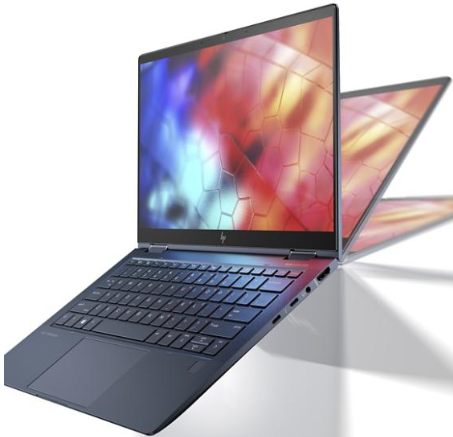 HP Elite Dragonfly: light, easy to find
HP describes this device as a business convertible aimed small and midsize business (SMB) users. It's light at just 1 kg (2.2 lb.). Yet plenty powerful with a 10th gen Intel Core vPro processor and Intel Wi-Fi 6.
HP is going green, too. On the Elite Dragonfly, over 80% of the mechanical parts are made from recycled materials, according to the company.
Shipments are set to begin next month. HP didn't disclose prices, but an earlier version had a starting retail price of about $1,550.
Back to top