Convertibles are cool laptops your customers can also use in tablet, media player or tent modes. To keep up with their evolving demands, HP has refreshed 2 of its older Spectre convertibles and introduced a new device to its Elite line.
Here's your tech provider's update.
Spectre x360 13 and Spectre X360 15
HP redesigned these convertibles for today's always-on, always-connected users. Despite the widespread use of smartphones, laptops remain critical everyday tools for more than 80% of millennials, according to HP's own research of 800 users.
That's one reason why these devices pack a lot of battery life. Up to 22.5 hours for the 13, and up to 17.5 hours for the 15.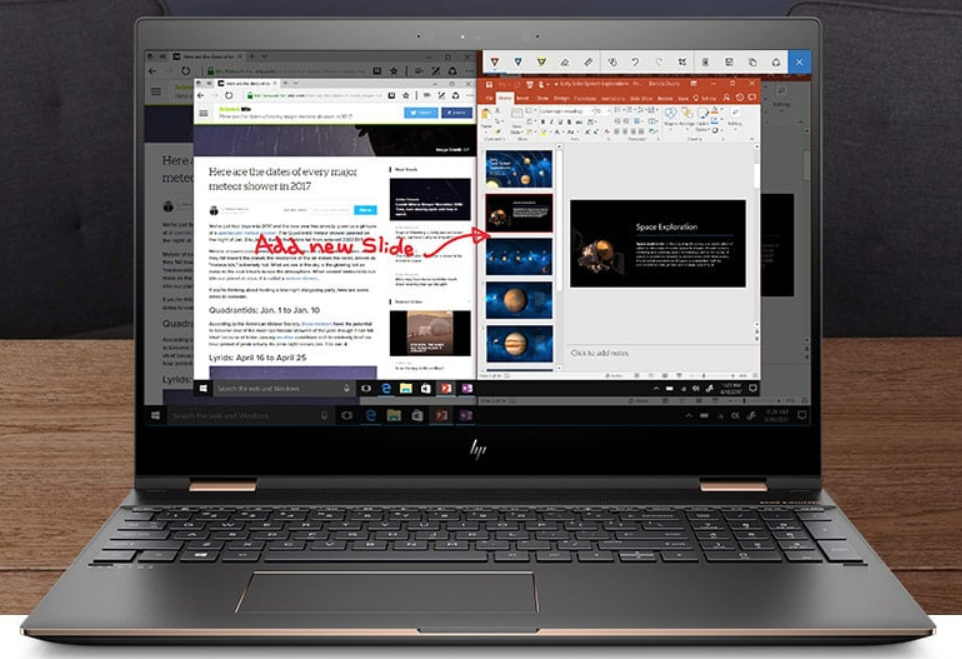 HP Spectre x360: now with 8th Gen Intel Core
As the names imply, the x360 13 has a 13.3-inch display, and the 15 has one that's 15.6 inches. Both run on 8th Gen Intel Core processors and offer gigabit-class 4G LTE connectivity.
With the x360 15, you can also order up an optional Nvidia GeForce GTX 1050Ti graphics processor, optional 4K touch display, and up to 2 Thunderbolt ports for attaching external displays.
These convertibles will be available in 2 snazzy new colors: ash silver with copper accents, and Poseidon blue with brass accents. And Bang & Olufsun audio will keep the music sounding pretty.
Security gets a boost, too. There's a new webcam "kill" switch for privacy. And an optional SureView privacy screen to block prying eyes.
Command Center, a set of custom HP software, lets the user set up to 4 modes that affect system performance, fan speeds, thermal performance. Good for gamers!
The HP Spectre X360 13 will be available from HP next month, and from Best Buy in December. Retail prices will start at $1,150.
The larger 15 has the same availability dates, and will retail for a slightly higher $1,340 and up.
EliteBook x360 1040 G5
This new device is a 14-inch convertible powered by an 8th Gen Intel Core processor.
HP hasn't provided a lot of information, but you'll be able to get up to 32GB of memory and a fat 2TB of storage. Battery life is promised for up to a hefty 17 hours.
Shipments are set to begin before the end of this month, with retail prices starting at about $1,500.
HP Elite with Zazzle custom skin
Also, HP has partnered with Zazzle to let your customers order decorative laser-cut notebook skins for their HP Elite notebooks. A business can display its brand; individuals can show off their style, as shown in the photo above. Prices for these custom skins start at about $20.
EliteDisplay E243d Docking Monitor
HP says this is the industry's first docking display to include a privacy webcam. That's cool. Plus, it uses just one USB-C connection for video, data and power. Also cool.
Shipments start in December with the retail price set at $330.
USB Fingerprint Mouse
This device plugs into the system USB port to interact with Windows Hello. That's a security feature of Windows 10, the preferred OS for these new systems. HP says the fingerprint mouse enables quick and secure device login.
It ships in December and will retail for $50.
There you have new convertibles from HP. Get your customers converted!
Back to top