Last night, HP Inc. not only reported its first-quarter financial results, but also revealed how it has bucked the industry trend and grown its PC business.
Overall, the PC business is weak. As you may remember, PC unit shipments worldwide fell last year by nearly 6 percent, according to market watcher IDC.
Yet against that backdrop, HP has for the three months ended Jan. 31 of this year seen its PC business grow. Specifically, PC units shipped by HP grew in Q1 by 8 percent. And by dollar revenue, HP's PC business in Q1 grew by 10 percent.
It's worth noting that HP's Personal Systems group grew revenue in the first quarter to $8.2 billion, an increase of 10 percent over the previous year's quarter. The group also turned a Q1:17 profit of $313 million, which is 3.8 percent of revenue.
How did HP do it? And how can solution providers follow the company's lead?
The short answer: Divide the PC business into segments, then focus on the segments of growth. And, when you can, sell higher-cost versions.
Let's dig in. HP divides what it calls the Personal Systems (PS) group into four main segments:
> Notebooks: In HP's Q1, notebook sales totaled $4.89 billion, or nearly 60 percent of the PS group's quarterly revenue. That was also an increase  from the year-earlier period of 16 percent. But unit sales increased by "just" 12 percent, demonstrating that HP was able to charge more for the average device.
> Desktops: This segment's sales totaled $2.53 billion, roughly 30 percent of the PS group's Q1 revenue. But the business was essentially flat. Revenue fell 1 percent from the year-earlier period.
> Workstations: This segment brought in $491 million, or 6 percent of the group's first-quarter revenue. Revenue rose from the previous year's quarter, but only by about 1 percent.
> Other: This segment's sales totaled $309 million, or 4 percent of the group's Q1 revenue. That represented a 4 percent drop.
Nice Devices
Cool, well-designed products help, too. For example, during HP's conference call yesterday with investors, CEO Dion Weisler cited the company's EliteBook X360. He described the HP device as "the world's lightest and thinnest notebook."
That's difficult to confirm, but the EliteBook X360 (pictured below) does weigh 2.82 lb. and measure 14.95 mm (0.6 inch) thick. It packs a 7th gen Intel Core processor, 13.3-inch display on a 360-degree hinge, Windows 10 Pro and a USB Type-C port, and HP promises up to 16.5 hours of battery life. All that for a starting retail price of about $1,680.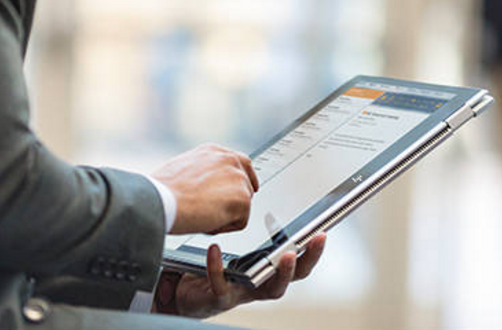 Solution providers say they like HP devices, and so do their clients. "The products are innovative and cool," Rick Chernick, CEO of Camera Corner Connecting Point, told CRN. His Green Bay, Wis.-based company is an HP gold partner. "They are just beautiful. Customers love them."
The upshot for solution providers? To grow PC sales, follow HP's lead: Focus on innovative notebooks. You may need to keep selling desktops, but don't expect that business to grow. And whenever possible, offer your clients the coolest, most beautiful devices you can find.
Back to top