Would you like to expand into or enter for the first time a product line that's expected to grow 8% a year for the next 5 years?
That's digital signage. And many of these digital-signage systems are now being powered by Intel NUC Mini PCs. Intel's small form-factor devices offer several attractive benefits and features:
> Configurable and ready to use
> Can handle multiple displays with 4K resolution
> Remote management via Intel vPro technology (selected models)
> Compact and quiet: just 4 x 4 inches, with nearly silent operation
> Powered by the highly regarded, massively popular 7th and 8th Gen Intel Core processors
> Supported by a robust third-party ecosystem
> Can connect with a cloud-based content management system (CMS)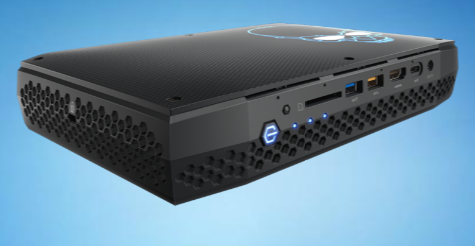 Intel NUC 8 Business Mini PC: ready to power digital signage
The digital signage business is big and growing fast. Last year, some 3.5 million units were shipped worldwide for total sales of $18.5 billion, according to Grand View Research. By 2025, the market watcher predicts, worldwide unit shipments will rise to 6.45 million units, delivering total revenue of $31.7 billion. That's your compound average growth rate (CAGR) of 8%.
Digital signage applications include digital posters, video walls, video and LED screens, and kiosks. In terms of location, digital signage is popping up all over, including in airports, coffee shops, sports stadiums, and fast-food restaurants. Basically, any place that needs to advertise, convey information, communicate messages — and appreciates the ability to update those messages instantly and remotely.
Ways to go
Intel current offers 2 models of its NUC Mini PC for digital signage, both fully configured and ready to use:
> Intel NUC 8 Business Mini-PC (NUC8i7HNKQC): Features an 8th Gen Intel Core i7 processor, 16GB of RAM, 512GB of SSD storage, Windows 10 Pro, a discrete graphics card, and six display connectors. Prices start at $1,298.
> Intel NUC 7 Business Mini-PC (NUC7i5DNKPC): Powered by a 7th Gen Intel Core i5 processor, this model includes the option of Intel vPro technology, 8GB of dual-channel RAM, 256GB of SSD storage, Windows 10 Pro, and two display connectors. It's also available with Core i3 or Core i7 processors. Prices start at $815.
In addition, Intel's new NUC 8 Rugged is a fully configured Mini PC for use in tough environments. Its slim form factor and quiet operation makes it ideal for use in outdoor signage, quick-serve restaurants, hospital pedestals, transportation kiosks, taxi displays and elsewhere.
Kiosk power
One company working with the Intel NUC Mini PCs is Zivelo, a Scottsdale, Ariz.-based provider of self-service kiosks and digital signage solutions. One of the company's customers, Thai Chili 2 Go, wanted a touchscreen kiosk paired with a payment system and receipt printer. The restaurant chain gave Zivelo just three months to develop the solution.
Zivelo kiosk: Intel NUC inside 
To deliver, Zivelo turned to Intel for its NUC 7 Business Mini PC. They put the NUC inside the kiosk, where it delivers all the compute power needed to run the menu interface, point-of-sale (POS) system and credit-card processing application.
And because this Intel NUC features Intel vPro technology, Zivelo technicians can monitor the Mini PC's metrics in real time. They can also assess the health of the kiosk without having to visit the site.
Pre-configured warnings and notifications alert them when an issue arises. Intel vPro also lets Zivelo turn on kiosks remotely, even after they've been completely powered down.
Are you ready to either expand into or enter a market that's growing 8% a year? Check out the Intel NUC digital signage solutions. And shop Intel NUC Mini PCs now.
Back to top