Two of Lenovo's fast and powerful workstation towers just got even faster and more powerful.
Lenovo this week updated two members of its ThinkStation P series, the ThinkStation P720 and ThinkStation P920. Both these workstation towers now feature the new 2nd Generation Intel Xeon Scalable processors and Nvidia Quadro RTX 8000 graphics card.
These Lenovo workstation towers are designed for professional users running workloads that include AI and deep learning, rendering, visualization and simulation. Yet they're affordable, priced more like a business laptop than a high-end graphics system.
Dynamic duo
The ThinkStation P720 can handle up to two of the 2nd Gen Intel Xeon Scalable processors and up to two Nvidia GPUs. This workstation system offers up to 384GB of DDR memory, and up to 60TB of hard-drive storage. Retail prices currently start at just under $1,600, but with Lenovo.com's "instant savings," that drops to $1,440.
Lenovo's beefier ThinkStation P920 also accommodates up to two 2nd Gen Intel Xeon Scalable processors, but up to three of the Nvidia graphics cards. You also get up to 2TB of DDR memory and up to 60TB of HDD storage. Retail prices currently start at about $1,700, though Lenovo is showing the system on its site for just under $1,530.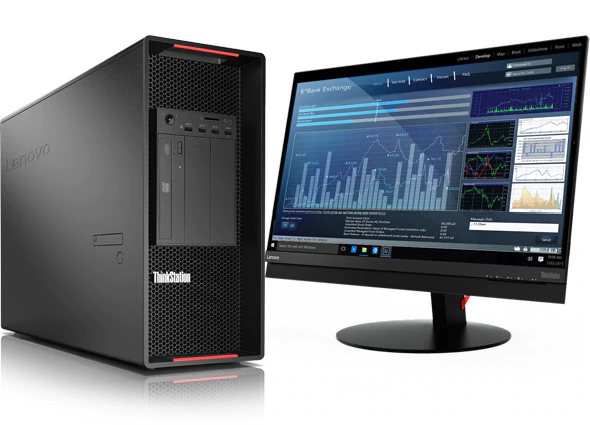 Lenovo's ThinkStation P920: still life with display
On the OS front, both systems come pre-loaded with Windows 10 Pro 64-bit and Ubuntu Linux. But both can also be upgraded via Microsoft to Windows 10 Pro for Workstations, and both are also certified for Red Hat Linux.
You'll find ports galore on both. These include connections for headphones, mics and Ethernet. In addition, Thunderbolt 3, USB-C, e-SATA and Firewire are also available as options.
Reliability, too
The Lenovo workstations come with yet another benefit: They're quite reliable.
Who says? A recent report from Technology Business Research (TBR). The research firm polled nearly 450 IT decision-makers at companies that use Lenovo workstations. It found:
> Nearly 9 in 10 (88%) are satisfied with their Lenovo systems.
> Roughly three-quarters (74%) think Lenovo is more reliable than other vendors.
> Nine in 10 (91%) say they're likely to buy from Lenovo again in the future.
TBR also found that Lenovo workstations are less likely than others to need repairs. Fewer than 4% of Lenovo workstations needed repairs in their first year, compared with almost 5% across the industry. That may not sound like a huge difference. But try telling that to a pro user while they're waiting for their system to be repaired! 
Do your customers need workstations that are not only fast and powerful, but also affordable and reliable? If so, then tell them about these updated towers from Lenovo.
Back to top