Your customers now have two great ways to deploy the Intel Unite solution.
Intel Unite is a wireless collaboration solution built on the Intel vPro platform. It's easy to use, cost-effective and secure.
Your customers can use Intel Unite to seamlessly share content across collaboration spaces while remote users and guests connect with ease — and without dongles, adaptors or cables. Additionally, Intel Unite's open platform enables the easy integration of other collaboration tools to enhance the overall user experience.
Until now, users of Intel Unite solution managed the PIN service on premises. But now that changes with Intel's announcement of the Intel Unite Cloud Service. Customers now have choice in how they deploy and manage the Intel Unite solution.
By choosing the Intel Unite Cloud Service, your customers still have access to the key features and capabilities of the on-premises version of Intel Unite. But now they don't need to dedicate a resource to manage the PIN service.  
Getting started is easy. Customers can simply install the Intel Unite software for their -hub PC in their collaboration space. Next, they connect it to the cloud-based PIN service. And finally, they open the Intel Unite app on their PCs, tablets and phones.
Intel Unite solution on NUC
Your customers can also run the Intel Unite solution with Intel's NUC 7 Business Mini PC operating as their solution hub. The Intel NUC Mini PC, enabled with Intel Unite, transforms an existing conference room or collaboration area into a meeting space that's smart, secure and connected.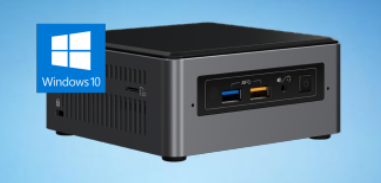 The Intel NUC 7 Business Mini PC: Win10 Pro included
The Intel NUC Mini PC is available with Microsoft Windows 10 Pro pre-installed. There's also a link to download the Intel Unite software installation files on the Windows desktop.
Small but mighty
The Intel NUC itself measures just 4 x 4 inches, making it a perfect fit for tight spots. Your customers can conceal the NUC behind a monitor, or place it next to a ceiling-mounted projector in a conference room.
The Intel NUC models enabled for the Intel Unite solution can also support up to two 4K HDMI displays. The boxes are expandable with custom lid and chassis options, too.
Are your customers looking for a collaboration system that's flexible, easy to use, cost-effective and secure? Tell them about combining the new Intel Unite Cloud Service and Intel NUC Mini PCs.
> Attending the InfoComm conference this week in Orlando, Fla.? Then come see the Intel Unite and NUC solution in action at Booth #3300.
> Learn more about the Intel Unite solution.
Back to top