The puzzle in this case is Intel's Core X-series desktop processor family, introduced at the Computex show this past May.
Earlier this week, Intel announced that it's now shipping to ecosystem partners the last 3 models of the Core X-series line: the Intel Core i9-7940X, Intel Core i9-7960X and Intel Core i9-7980XE Extreme Edition.

With these new chips, the Intel Core X-series is now scalable all the way from the Core i5 X-series with 4 cores to the new Core i9 Extreme with 18 cores. And that high end is pretty high: Intel says the new Core i9 Extreme is the first consumer desktop CPU with 18 cores, 36 threads and nearly 25MB of cache.
High performance
From a user's perspective, the Core X-series has been designed for content creators, gaming enthusiasts and overclockers. All 3 of the new processors are unlocked, all support overclocking, all support Intel's Turbo Boost Max Technology 3.0 (more on this below), and all support Intel's Optane memory.
The Core X-Series processors are 64-bit multicore chips built on Intel's reliable 14nm process technology. They're also designed to be low-power, high-performance devices.
How high is that performance? According to Intel, VR content-creation performance is improved by up to 80% compared with the previous generation. And 4K video editing is up to 60% faster, also compared with the previous gen chips.
Performance is helped by the afore-mentioned Turbo Boost 3.0. This Intel technology speeds lightly threaded performance by first identifying a processor's fastest cores, then directing the most critical workloads to them.
The following table, courtesy of Intel, compares the major features and prices of the 3 Core i9 X-series processors that have just started shipping: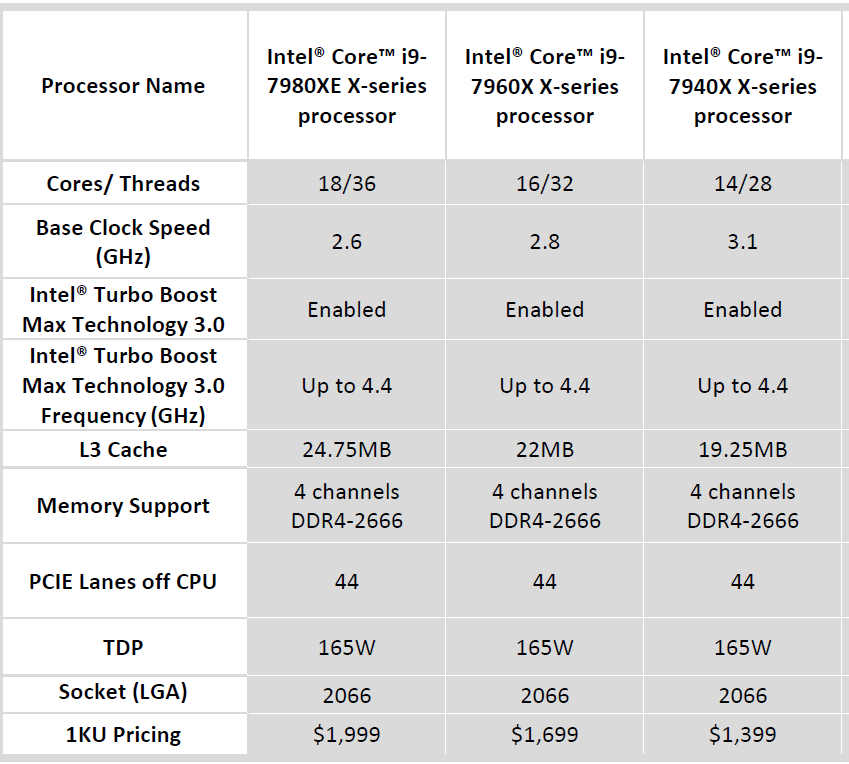 As we've mentioned, these new processors aren't for everybody, especially at prices rivaling those for full-blown PCs.
But for gamers and other true-blue enthusiasts, the Intel Core X-series should be extremely cool.
And don't miss these related posts:
Intel Core X-Series + Optane memory = high-end gaming
Intel's Myriad X processor brings AI to the edge
How new 8th Gen Intel Core processors can help you refresh PCs
Back to top