Intel this week announced the second group of 8th Gen Intel Core "Coffee Lake" processors and set sales to begin on Oct. 5.
The new CPUs are officially known as the 8th Gen Intel Core Desktop Processor Family. They're aimed at PC enthusiasts — gamers, content creators and overclockers.
The announcement follows last month's introduction of the first Coffee Lake products, a quartet of mobile chips. Looking forward, Intel says it also plans to introduce another group of Coffee Lake processors in the first half of 2018. Those chips will be commercial and broad consumer processors.
New line overview
The new 8th Gen processors promise substantial performance improvements. These include a 25% improved frame rate, compared with the 7th Gen Intel Core. Up to 32% faster video editing, also compared with 7th Gen. And up to 65% faster content creation, compared with a 3-year-old PC.
The new processors also use some familiar Intel's technology. This includes Turbo Boost 2.0, which provides temporary performance bursts, and Hyper-Threading, which lets each core work on 2 tasks simultaneously to improve performance.
Intel's Optane memory is supported, too. Intel says Optane plus the new 8th Gen processors can boost overall system responsiveness by more than 2X compared with a 5-year-old desktop, and make web launches nearly 9X faster.
A new motherboard is required for all the new 8th Gen Intel Core desktop CPUs. And to support the line, Intel has also introduced its Z370 chipset-based motherboards. The company says the new CPUs require Intel 300 Series chipset motherboards to deliver their rated performance.
By the model
The new line's flagship processor is the Core i7-8700K, which Intel calls its best gaming desktop processor ever. This 6-core CPU has a base clock speed of 3.7 GHz and is capable of being overclocked to 4.7 GHz with Intel's Turbo Boost 2.0 technology.
The new line also includes the first-ever 4-core Intel Core i3 processor and first 6-core Intel Core i5 chip.
Here's a chart, courtesy of Intel, that compares all the new models: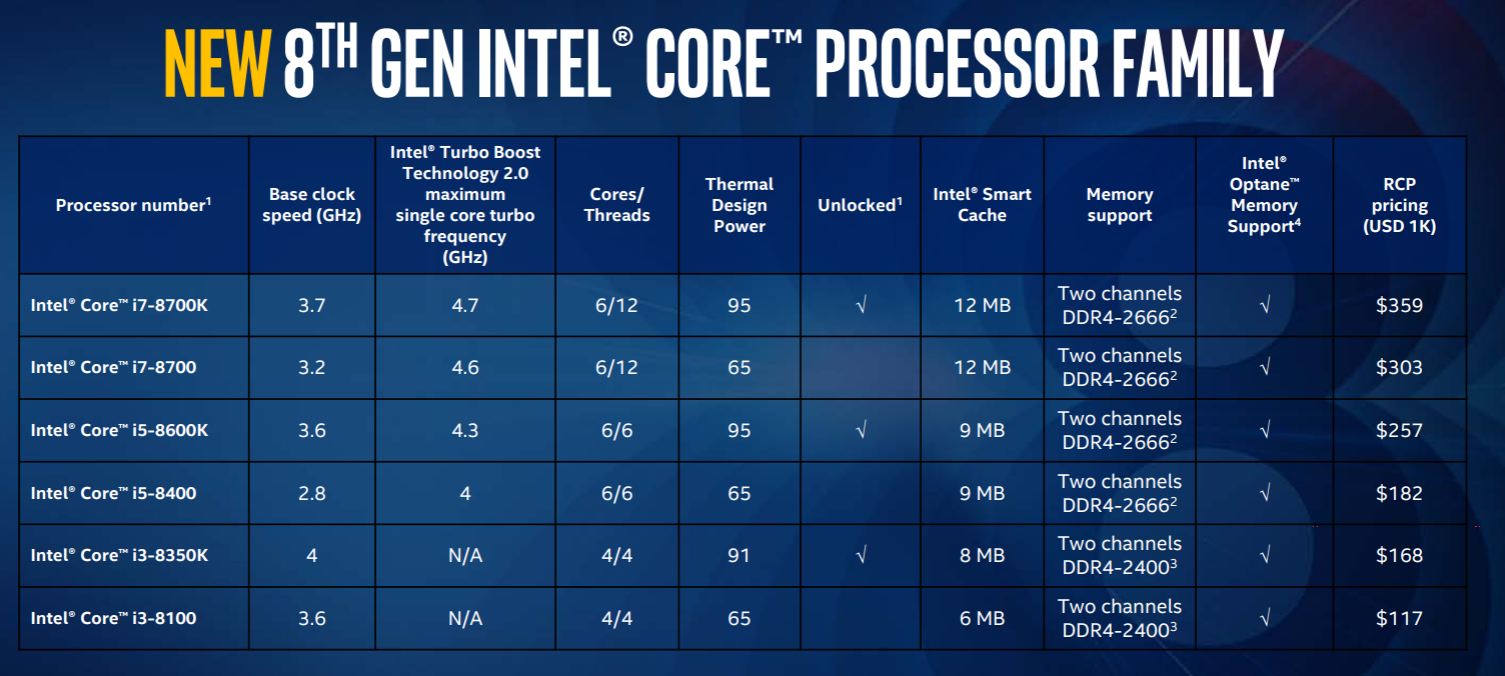 Raging markets
Why should solution providers be especially interested? Because the 3 markets the new processors are aimed at — gaming, content creation and overclocking — are in growth mode.
Here are a few stats provided by Intel:
> Gaming: Sales of gaming PCs have enjoyed a 36% compound annual growth rate (CAGR) over the last 5 years.
> Content creation: It's estimated that there are more than 130 million digital content creators worldwide.
> Overclocking: Sales of unlocked CPUs improved by 80% from Q2:14 to Q2:17.
Solution providers interviewed by our colleagues at CRN are impressed. "Intel is fighting harder than ever," said Randy Copeland, president and CEO of Velocity Micro, a system builder and Intel partner in Richmond, Va. 
And Kent Tibbils, VP of marketing at ASI, a Fremont, Calif.-based system builder, told CRN: "All these variations in product creates opportunity for resellers to demonstrate Intel's value as a trusted technology advisor as they help their clients determine the right solution for their particular need."
If you have enthusiast customers, these new processors have been designed for them.
Learn more from Intel:
Product overview: 8th Gen Intel Core Desktop Processors (PDF)
Product brief: 8th Generation Intel Core Desktop Processors (PDF)
And don't miss:
Intel's Myriad X processor brings AI to the edge
How new 8th Gen Intel Core processors can help you refresh PCs
Acer intros system with 8th Gen Intel Core processors
Back to top