If you offer PCs for high-end gamers, VR users and content creators, you'll be happy to know that Intel has just started taking pre-orders for its new Core X-series processor family.
Actually, pre-sale orders became available yesterday from several retailers. And shipments of the new Intel processors are set to begin next Monday, June 26.
Intel introduced the Core X-series processor family last month at the big Computex show in Taiwan. Codenamed Basin Falls, the new line comprises 9 SKUs, including Intel's first teraflop desktop CPU as well as its first consumer desktop processor with 18 cores.
All the new Core X-series processors also support Intel Optane memory and Intel Optane solid state drives (SSDs). Overclocking is supported, too, with per-core overclocking, per-core voltage, and enhanced memory overclocking.
This is Intel's most scalable high-end desktop platform. The new Core X-series offers options of 4, 6, 8, 10, 12, 14, 16 and 18 cores.
5 SKUs now
As of now, 5 of those 9 SKUs are available for pre-order. Here they are, along with their manufacturer's suggested retail price:
> Core i5-7640X X-series processor: 4 cores, $242
> Core i7-7740X X-series processor: 4 cores, $339
> Core i7-7800X X-series processor: 6 cores, $389
> Core i7-7820X X-series processor: 8 cores, $599
> Core i9-7900X X-series processor: 10 cores, $999
Looking ahead, Intel says the 12-core processor in the X-series will ship in August. And the family's 14- to 18-core processors will ship in October.
Suggested retail prices for the Intel Core X-series will top out at $1,999. That's the MSRP for the Core i9-7980XE, a new processor that features 18 cores, 36 threads, Intel Turbo Boost Max 3.0, 44 PCIe 3.0 lanes, 4-channel DDR4-2666 memory support, and more.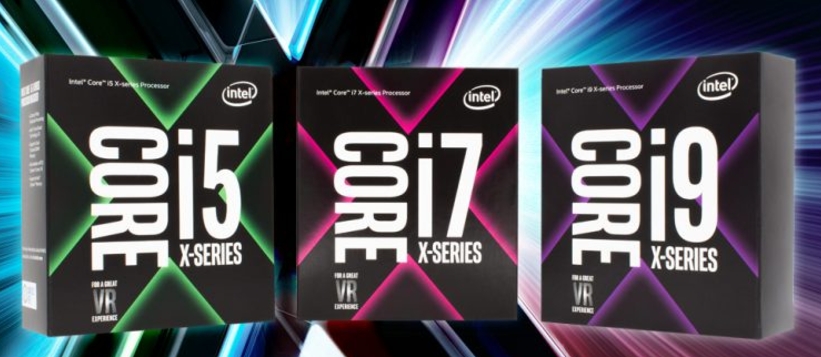 Activity-focused features
The new Intel Core X-series processor family offers features that your high-end customers should like. Here's some of what's coming:
> High-end gaming: 4K support; can handle up to 4 graphics cards; "mega-tasking" lets users play games while also broadcasting a live HD stream; powerful enough for demanding VR games.
> Content creation: extreme multitasking; support for 4K and VR content; output options including 3D and large-format printers.
> 3D modeling and animation: support for both CAD design and 3D SFX.
Get the product specs: Intel Core X-series fact sheet and Intel Core X-series product overview (Intel PDFs).
And don't miss:
Intel Compute Card, shipping in Aug., offers big power, tiny format
Intel's latest Xeon CPU for data-center servers
Intel intros Core X-series processor family at Computex
Back to top