The recent introduction of the "phase two" 7th Generation Intel Core processors brought with it an array of new features focused on business, security and multimedia.
However, extreme performance enhancements were not on the menu. The 7th gen Intel Core processor family, originally codenamed "Kaby Lake," is based on the same 14nm architecture as its predecessor, Skylake. The 7th gen processors are faster, sure. But for the average user, the extra speed is nothing to write home about.
Still, Kaby Lake is definitely upgrade-worthy. This time, Intel engineers focused instead on usability and compatibility. The result: an array of smarter, more work-savvy processors suitable for every size and shape of device, from low-power tablet to enterprise-level server.
Enhanced Windows Integration
Windows is another key feature of Kaby Lake. Designing specifically for that platform makes sense. An overwhelming percentage of the world's computers run some version of the Windows operating system.
To that end, Kaby Lake offers several Windows-centric enhancements. These include Speed Shift Technology, Thunderbolt 3 support and Windows Ink hardware acceleration.
Also, artificial intelligence — the kind that enables Windows' virtual assistant, Cortana — is now connected to the hardware at its most fundamental level. The result: better performance and faster machine learning. 
Security is on the menu, too. For your customers, installing a Kaby Lake vPro CPU will deliver a bona fide security update. Intel's business-focused 7th gen Core processors have been designed to enhance security features. These include Windows Hello, a multi-factor authentication system that uses biometrics and nearby mobile devices to keep hackers at bay.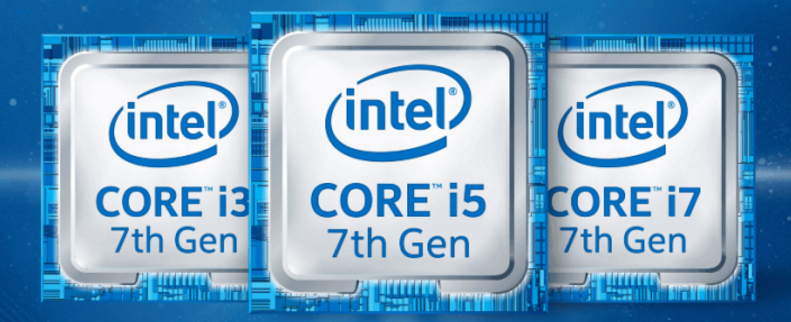 Hi-Res Visuals
Intel's engineers also knew that demand on hardware is getting more intense. That's thanks in part to AAA video game makers and streaming services like Netflix now offering 4K Ultra High Definition (UHD) content.
That's why Intel is making graphics-performances gains part of every new hardware iteration. The Kaby Lake processors, especially those equipped with Intel Iris Plus Graphics, provide better visual performance than any previous models.
And there's more. The 7th gen Intel Core processors include an improved media engine with power-efficient VP9 and HEVC 10-bit hardware acceleration. That promises UHD video editing and playback without the performance bottlenecks endemic to older PCs and mobile devices.
Thanks for the (Extra) Memory
Performance gains aren't always about a faster processor. Case in point: Intel Optane Memory. It's a new way for your customers to speed their computing experience without reducing storage capacity.
The 7th gen Intel Core i-series processors give your customers the option of installing an Optane memory module via the motherboard's M.2 connection. Optane works as a dedicated memory system designed to shorten boot times, launch applications faster, provide hardware acceleration for gaming, and increase browser responsiveness. Bottom line: The computer simply feels faster and more nimble.
Kaby Lake may not represent a sea change in microprocessor design. But it is clearly a worthy upgrade. Advances in security, usability and visual performance make a compelling pitch for a myriad of use cases.
Your customers will likely agree: Systems running the new 7th gen Intel Core processors are worth a look.
Back to top