Mention Samsung, and most people will probably think of Android phones, flat-screen TVs and major appliances. After all, those are among the South Korean company's top products.
But this technology giant would also like you — and your customers — to associate its name with the latest in high-end laptops. To get rolling, the company recently introduced two luxury laptops, the Galaxy Book Flex and Galaxy Book Ion.
To help build these high-end computing devices, Samsung took advantage of Intel's Project Athena program. While this blog post is about Samsung's new laptops, to understand the nature of the Galaxy Book platform, you first have to understand Athena.
What Athena is — and isn't
Intel's Project Athena Innovation Program is nothing less than a drive to completely reconceptualize the modern laptop.
More concretely, Athena comprises a set of standards and a platform for emerging Intel technologies. Intel also plans to operate Project Athena Open Labs in Shanghai, Taipei and Folsom, California, to enable and optimize innovative PC components.
Project Athena is also a R&D partnership. Its membership is limited to only those computer manufacturers both moneyed enough to play in the big leagues and masochistic enough to hang out on the bleeding edge.
Project Athena: Intel's bold partnership with premier partners
What Athena is not is static. On the contrary, its very nature is amorphous — zigging with the demands of users, zagging with the emergence of new manufacturing processes such as the latest 10th gen Intel Core processors.
Best laptop in the galaxy?
A quick glance at the new Galaxy Books tells you that Samsung's sure got style. The shimmering blue edge of Galaxy Book Ion is the perfect amount of color-pop, expertly accenting its ultralight magnesium body.
Samsung Galaxy Book Ion: all dressed up in ultralight magnesium
And Galaxy Book Flex 2-in-1? Well, the folks at Samsung just went totally blue — Royal Blue to be exact.
It's a color that looks awfully compelling when anodized onto a thin yet strong aluminum skin.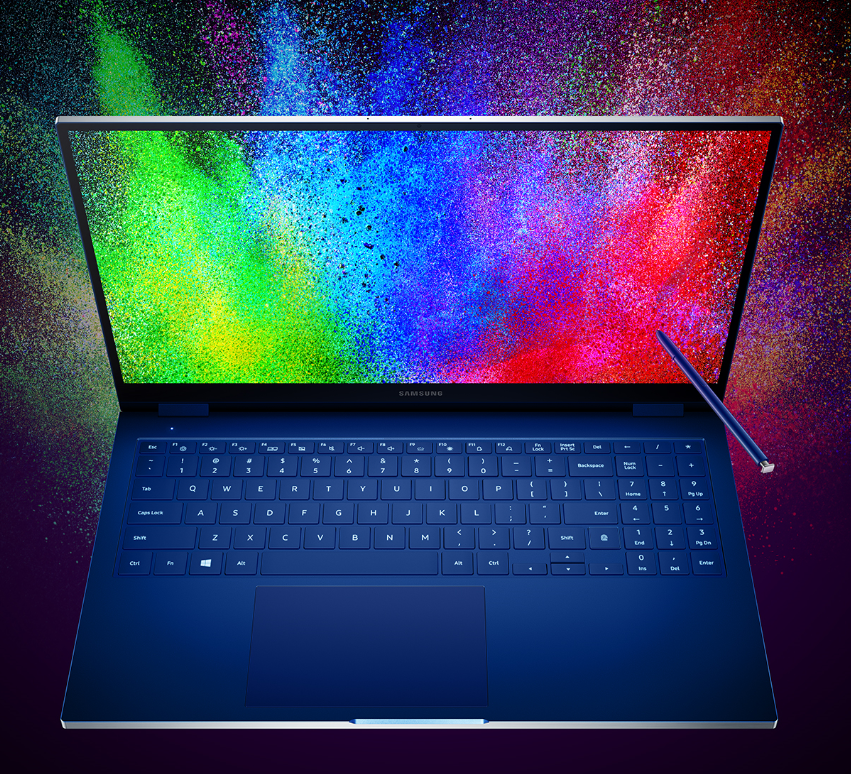 Samsung Galaxy Book Flex: a next-gen 2-in-1 convertible
But is the Galaxy Book Flex's killer style matched with a suitable degree of substance?
In a word: yes.
Which brings us back to Project Athena. Its guidelines leave no question as to the technological merits of any laptop that carries this official certification.
Samsung's new mobile workstations pack a lot of technical prowess. Not the least of which is the world's first 13.3-in. and 15.6-in. QLED display on a laptop.
Both models also boast WiFi 6 (Gig+) and Thunderbolt 3 connectivity, optional discreet graphics, NVMe SSD storage, and up to 16GB of DDR4 memory.
But all that pales in comparison to the introduction of Intel's new Ice Lake processors. If you're looking for a compelling sales pitch, start out by telling your customers about 10nm silicon, hot-rod onboard graphics, and a metric ton of AI just beneath that cool, blue skin.
Intel Inside, only thinner
The super-geeks at Intel have been chasing their 10nm dreams for quite a while. Starting this holiday season, your customers will see that dream become reality.
The skinnier silicon translates to more speed and less heat. But that's just the tip of the ice lake.
This new dual- and quad-core Core processor lineup also signals Intel's renewed focus on graphics. It features up to 1 teraflop of GPU engine compute to help with video stylization, analytics and real-time video resolution upscaling.
Higher ASPs are good for you
Where laptop average selling prices (ASPs) are concerned, there's always a race to the bottom. But this time, Samsung won't be taking part.
Instead, Samsung's new laptops should be pricey. While there's no word yet on an official price or release date, the specs point to a starting price of around $1,200 or $1,300. Fully-loaded, the sticker could even reach beyond $2,400.
No, that ain't cheap. But it could turn out to be the perfect laptop for your executive customers, as well as those interested in high-performance graphics and number-crunching. And the perfect laptop for your bottom line!
Looking for a luxury laptop? Check out the latest Samsung Galaxy devices.
Back to top