Intel's NUC (Next Unit of Computing) is the digital cross between a Swiss Army knife and The Little Engine That Could.
Every year the NUC mini-PC gets smaller and more powerful. And every year NUC weaves its way into the fabric of public life as tech-savvy people like your customers find new uses for it.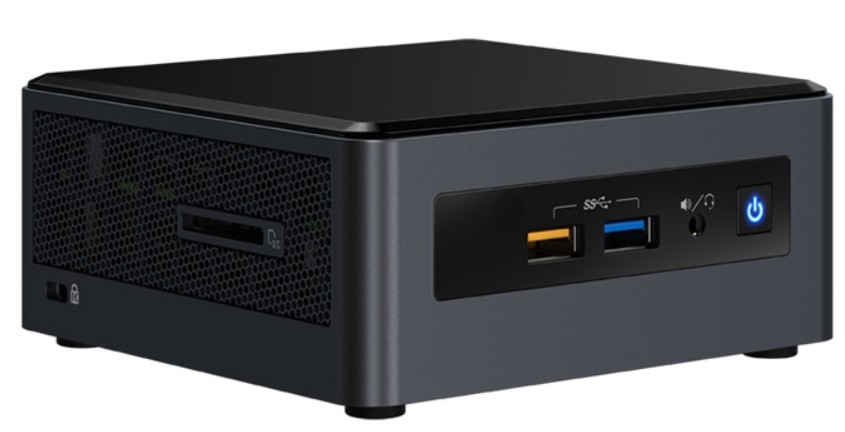 Intel NUC: small, flexible and inexpensive
There may be a NUC behind the digital menu at your local McDonald's. Maybe there's one powering an interactive map in the shopping mall. Or maybe your most recent video call with London went smoother than usual because there's a NUC in the conference room.
No matter where NUC pops up, one thing is certain: Its growing ubiquity could be just the opportunity your customers are looking for.
Small PC, big features
To NUC's admirers, the list of its virtues looks like this:
> Small size: under 5 x 5 x 2 in.
> Light weight: approximately 1.1 lb.
> Flexible: Intel Core CPU, optimized for Windows 10, able to handle 4K displays
> Inexpensive: Retail prices start as low as $217
> VESA-mount compliant: Easily attaches to popular displays, mounts and other hardware
> Intel vPro-compatible (selected models): aids remote management
Digital signage: fast becoming a retail norm
Add these together, and you've got the ideal silicon engine to drive digital signs, kiosks and communications hubs. And those markets are big and fast-growing. Digital signage alone should bring in global revenue of nearly $30 billion by 2024, predicts Markets and Markets.
vPro for remote management
Today's digital retail isn't just about the tech you install on-site. It's also about the tech that enables remote management. That's where Intel's vPro processors come in.
It took a little while for NUC to come into its own, and a little while longer for the mini-PC to find its way into the enterprise market. But IT pros are fast concluding that remote-management software and hardware is the answer to a great many questions of time, cost and efficiency.
For the uninitiated, here's the elevator pitch: vPro-enabled processors, such as the 8th gen Intel Core i5-8600, have a unique hardware layer dedicated to remote management and security. In the event that a vPro-equipped system has a technical or security issue (such as a virus or drive failure), centrally located IT staff can gain access to the system remotely to perform a variety of diagnostics and repairs.
Intel Core i5-8600 processor: vPro inside
Intel's vPro technology is designed to more efficiently and cost-effectively manage large installations — for example, an office building full of thin-client PCs. But vPro can be invaluable for companies using tablets, PCs, point-of-sale (POS) appliances and digital signage.
Keep in mind, not all NUCs offer vPro functionality. The least expensive versions of NUC feature less-powerful processors designed to run at lower temperatures. But as you move up the food chain to certain Core i5 and Core i7 models, vPro can be added to the mix. This way, your customers need pay only for the functionality they really need.
Intel's NUC is the little PC that could. And for tech providers and their customers, it's becoming as handy as a Swiss Army knife.
Back to top