Artificial intelligence is on its way to becoming invisible — and that's a good thing.
Like electricity, this technology will soon be a hidden but driving force in a wide range of devices, including factory tools, trucks and cars, and home appliances.
Now, thanks to Lenovo, add PCs to that list.
At the big CES 2019 show this week in Las Vegas, Lenovo introduced a new ultra-slim laptop equipped with AI-driven features.
The new device is the Lenovo Yoga S940. From the outside, it looks like a respectable Windows 10 laptop, complete with a 14-inch 4K display, IR camera, 8th Gen Intel Core processors, and far-field mics for talking with Microsoft's Cortana virtual assistant. It weighs 2.6 pounds. Retail prices are set to start at about $1,500.
Lenovo's Yoga S940 ultra-slim laptop, shown with optional external monitor
So far, so good — if unexceptional. However, when this device starts shipping in May, it will also offer an optional AI suite called Lenovo Smart Assist. Users will be automatically prompted by Lenovo Vantage — an application that updates drivers, runs diagnostics and helps users discover apps — to access those features.
AI features
Here's some of what AI will enable on Lenovo's new Yoga S940 laptop will be able to do, thanks to its AI power:
> Automatically filter out most ambient noise and blur distracting backgrounds during video calls. Sounds such as a barking dog or honking car won't disrupt video calls. And as the before-and-after photos below illustrate (courtesy of Lenovo), users will have more privacy with their background blurred.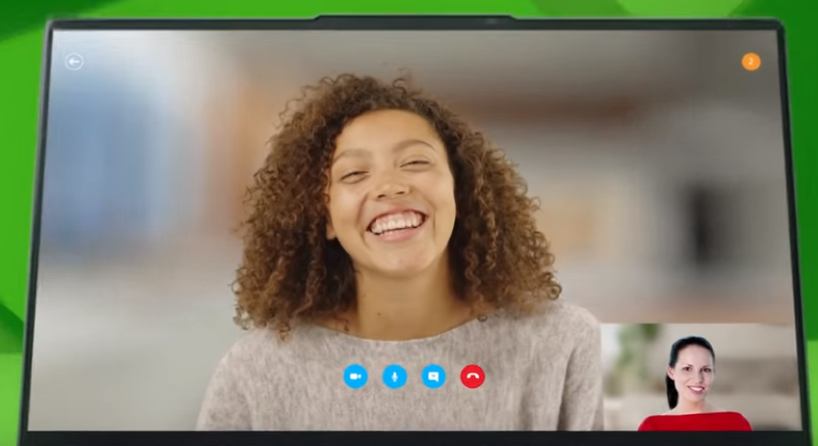 > Detect when the user walks away, then auto-lock the display to protect data from unwanted eyes. It can also detect and alert the user when someone is "shoulder surfing" their screen.
> Use "attention sensing" software to know when the user is looking at an external monitor. Based on the user's attention, intent and focus, a feature called Snap Window can shift open windows and content to a connected external monitor for a seamless and intuitive user experience.
Lenovo's new laptop points the way to an invisible AI experience. It's also a PC device your naturally intelligent customers should appreciate.
Back to top