Your customers' meetings don't have to be a drag. You can help them collaborate more effectively. Tell them about the latest Intel NUC videoconferencing solutions.
You may already know about the Intel NUC Mini PC family. These devices get used by retailers, schools, factories — basically, anyone who needs a small yet powerful PC.
But did you know that the Intel NUCs can also perform as a conference-room hub for some of today's most popular collaboration and meeting applications? That includes Intel Unite, Microsoft Teams and Zoom Rooms.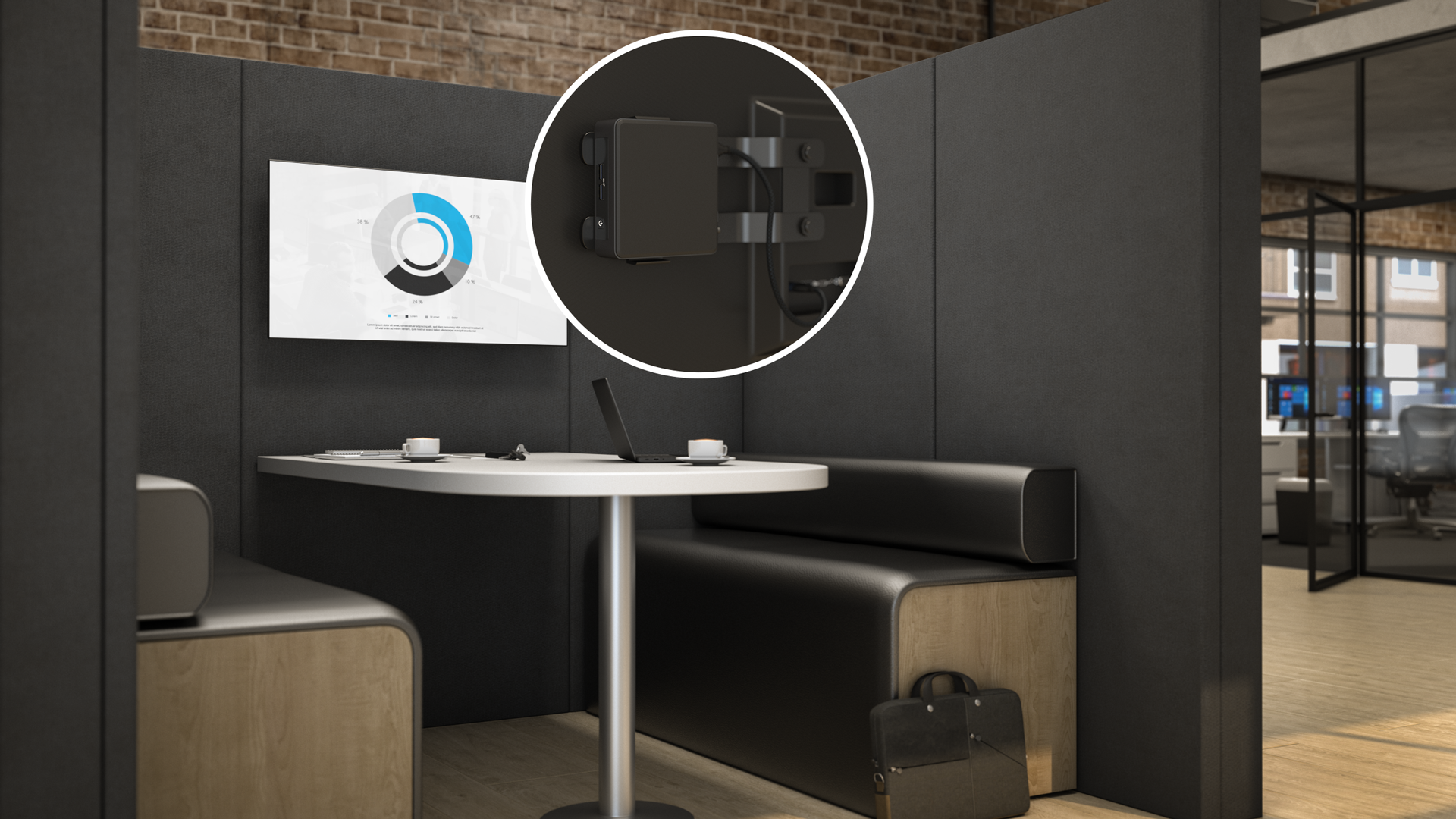 Intel NUC Mini PC (in circle): powering the huddle room
This is important. Collaboration is now a top IT priority for both SMBs (organizations with fewer than 100 employees) and midmarket organizations (those with 100 to 999 employees) worldwide.
That's according to a new survey conducted by IT market researcher Techaisle. It finds that for SMBs, collaboration is now their #3 IT priority. And for those in the midmarket, collaboration is now their #4 IT priority. In other words, collaboration matters.
Small but mighty
While each of the leading collaboration systems has its own technical requirements, they all can benefit from the Intel NUC's form factor.
For example, the Intel NUC 8 Pro Mini PC measures just 4.6 x 4.4 x 2 inches. That's small enough to tuck in a corner or hide behind a screen.
Intel NUC 8 Pro Mini PC: small yet conference-ready
The Intel NUCs have power enough to handle video processing for multiple 4K screens. Enough I/O ports to let you customize each collaboration space. And sufficient CPU headroom to assume AI capabilities such as facial recognition and room-occupancy analysis.
The Intel NUC Mini PCs are also quiet. With no annoying hum, this mini PC will let your customers focus on their meeting. They'll also be able to clearly hear the voices of all remote attendees.
Tell your customers their meetings no longer have to be such a drag. Tell them about Intel NUC Mini PCs for business.
Back to top