While PCs aren't often lauded for their spectacular audio, every once in a while an exception emerges.
The latest exception is the new HP Envy 32 All-In-One PC. This system reminds us that high-quality sound can make just as big an impact as do stunning visuals and lightning-fast response rates.
For once, let's gloss over the 9th Generation Core i7 processor and the NVIDIA GeForce RTX 2080 GPU. They may be impressive, but no more so in this case than in any other PC.
The Envy 32's audio system, however, isn't something you'll find in most AiOs. Earlier this month, when HP introduced the Envy 32 at CES 2020, a great many eyeballs swiveled downward to take in the angled speaker array nested below a gorgeous 32-inch screen.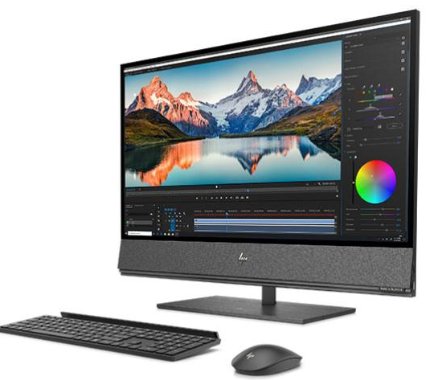 HP Envy 32 AiO: with audio co-developed by Bang & Olufsen
Behind the acoustically transparent mesh cover sits a formidable collection of speakers. These combine to form a 2.1 audio subsystem co-developed by the legendary Bang & Olufsen. The HP Envy 32 features 2 tweeters, 2 midrange drivers, and a center subwoofer flanked by 2 passive radiators to increase bass response.
What's more, users can connect to the impressive speaker array from any Bluetooth-enabled device, even when the computer is turned off.
Sounding out the competition
Plenty of PC designers pay lip service to high-end audio, but very few actually deliver. One system that does deliver is Dell's XPS 27 all-in-one.
Introduced back in 2017, the XPS 27 is a veritable dinosaur by PC-market standards. In fact, this AiO is no longer offered directly by Dell. Yet it's still available from select dealers, and it continues to make lists of the best-sounding PCs.
Dell's XPS 27: blast from the (recent) past
Dell went all the way with the XPS 27, endowing it with no fewer than 10 speakers. Nested in the PC's slick, black chassis are 2 tweeters, 4 full-range drivers, 2 woofers and 2 passive radiators.
The XPS 27's speakers are powered by a 50-watt-per-channel amplifier. Any way you slice it, that's a metric ton of sound from a remarkably svelte chassis. Equally heavy, unfortunately, is the price tag, originally set at nearly $4,000. (That's now down to around $2,350 – where you can find it.)
To search for a third runner-up is to be bombarded by myriad articles touting the brilliant sound of your average iMac.
There's a good reason for this: the iMac sounds quite a bit better than your average AIO. The trouble with that argument? Your average AIO sets the bar for audio quality incredibly low. iMac simply wins by default.
The irony of high-end audio
Does the Envy 32 sound good? Yes. Does that make it perfect for audio production? Absolutely not.
Pro audio engineers use external analog-to-digital audio converters that can cost as much as ­– or more than – the computer itself. Combined with speakers and amps specially designed for recording, mixing, and mastering, these setups effectively bypass the PC's audio system entirely.
Then who is the perfect customer for a PC like the Envy 32? Two types spring to mind:
> Business-class multimedia creators: Countless companies rely on in-house and agency creatives to produce custom audio, video and graphics. These projects find their way into advertising materials, presentations, corporate-branding elements and the like.
> Enthusiasts: Your average dorm-room dweller may appreciate the ability to use their computer as a TV, music system and gaming rig. The $1,899 price tag on the HP Envy 32 might feel like a hefty premium compared with, say, Acer's Aspire Z 24, at around $900. But when you add in the price of a separate TV, speakers, streaming device and accessories, the gap narrows considerably.
Music to the channel's ears
Sure, the target market for an AIO like the Envy 32 is smaller than that for a run-of-the-mill business PC.
But the average sale price (ASP) of a well-spec'd multimedia creation station can soar to well over $5,000. That makes it a potentially lucrative proposition for channel partners.
Sounds pretty good, right?
Back to top