How much can your customers spend on a gaming computer? How much have they got?
PC users in general are moving to thinner, lighter and cheaper devices. But not the gaming crowd. They're still mad about desktops and laptops that are bigger, faster and stronger.
This demand for high-end hardware pushed gaming-computer revenue last year past the $23 billion mark, and sales show no sign of slowing, according to WePC. That makes gaming one bright spot in an otherwise sluggish PC market.
Game developers are helping drive this market, too. Each of their new games demands more from the hardware it's running on. To keep up, hardware suppliers are creating bigger, better and faster systems — with higher price tags to match.
Prices add up quickly
In the world of hardcore gaming, success or failure depends largely on 2 main components: the CPU and GPU. So it should come as no surprise that most of the money spent on a gaming rig goes to the latest Intel processors and NVIDIA or AMD graphics cards.
Take Dell's popular Alienware Area-51 gaming desktop. The starting price is an ever-so-humble $1,800, which includes a reasonably fast Intel Core i7 running 6 cores at up to 4 GHz each.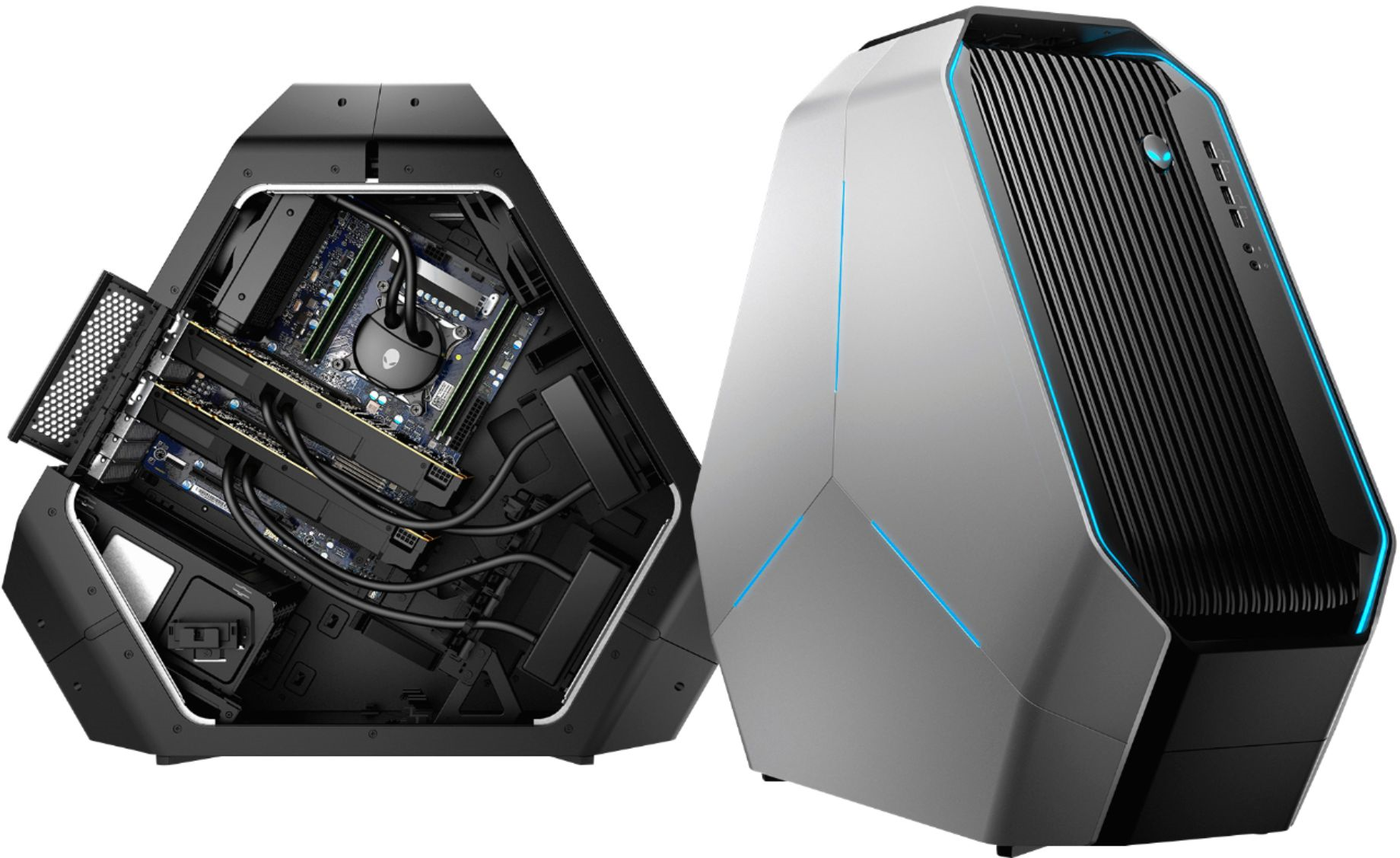 Alienware Area-51: from $1,800 to $8,000 in under six seconds
But hardcore gamers are the go-big-or-go-home type. When bragging rights and/or six-figure prize money is hanging in the balance, they want to stack the odds in their favor.
For them, Area-51 offers an Intel Core i9 18-core processor with a 24.75 MB cache. The price for this upgrade is a cool $2,100. That brings the system's total price to $3,900.
But wait, there's more! Any gamer worth his or her salt knows that an 18-core processor needs a GPU to match.
Yeah, we're going to need to drop in a pair of liquid-cooled NVIDIA GeForce GTX 1080s. That's another $1,400, bringing the total to a whopping $5,300. And we haven't even talked about drives, RAM or peripherals yet.
So let's talk about them. Add 64GB of DDR4 memory: another $1,500. Two 2TB solid state drives (SSD): $1,500 more. Before you know it, you're over $8,000, not including your ultra-high-def 4K widescreen display (or two).
Laptops, too
To be this expensive, a gaming computer doesn't have to be a desktop. Your customers can spend a ton on a laptop, too!
To begin, simply configure a Digital Storm Harker 17-inch gaming laptop with an Intel Core i9 8-core mobile processor running at 3.6 GHz. It already comes with GeForce GTX 1080 graphics, so no up-charge there.
Digital Storm Harker: fully loaded at nearly $325 an inch
But don't worry: It's easy to push the price up to more than $5,500. Just add 64GB of memory and a second SSD.
Now, if your customers are looking for a more recognizable name tag, you can also show them the latest Lenovo Legion laptop series.
Lenovo Legion: well-known name, modest price
Starting at around $1,250, Lenovo's price point is comparatively modest. But it does have discrete graphics, Intel's 8th Gen processors, and an ever-so-cool multicolor light-up keyboard.
Channel partners, rejoice
These super-high PC prices might be troubling to whoever opens the credit-card bill at the end of the month. Ouch.
But channel partners selling $7,000 desktops shouldn't be troubled at all. High-performance gaming rigs could be the perfect antidote to a PC market otherwise stuck in neutral.
Success requires being in the right place at the right time. In the PC market, the right place is gaming. And the right time? Right now.
Back to top