High-resolution 4K technology is crisp, and 27 inches is big. Put them together with today's increasingly affordable prices and applications that can increasingly take advantage of 4K tech, and you've got a winning combo for your visually oriented customers.
Here are just 3 of the many options out there. One at an entry-level price. Another at the high end. And one in between.
Cheap(ish) and cheerful
Okay, $430 for a monitor isn't exactly cheap. But for a 27-inch 4K display, it's pretty good. And that's what you'll pay for Dell's best-selling 27 Ultra HD 4K monitor, model P2715Q.
That gets you a 16:9 display with 4K (3840 x 2160) resolution, which works out to over 8 million pixels, or 4 times the resolution of full HD.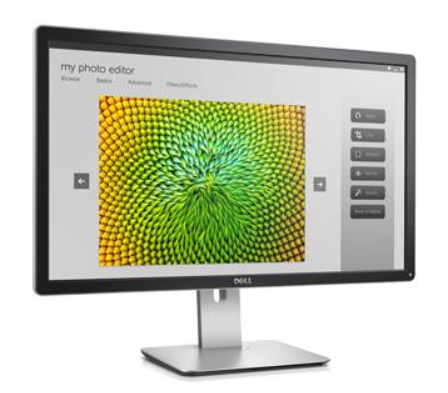 $430 gets you Dell's best-selling 27 Ultra HD 4K monitor
This Dell monitor also hs a USB 3.0 hub that lets the user charge other devices. And a DisplayPort connection that lets the user daisy-chain 2 monitors side by side.
This display supports more than1 billion colors. And it weighs a reasonable 16.6 pounds.
Costly & specialized
Acer this week announced U.S. availability of its ProDesigner BM270, its 27-inch 4K ultra HD display designed for graphics professionals and video editors. This kind of specialization comes at a premium. To be precise, a starting retail price of $1,700.
Specialized features on the BM270 display include color tuning, uniformity compensation, super-high contrast, and an adjustable shading hood — it looks like a pair of black wings — to prevent glare from ambient light.
The monitor has another feature, called Display Widget, that's designed to reduce button fiddling. Display Widget lets the user create and save their individual settings for things like brightness, contrast and color saturation, and to do so with just a few mouse clicks.
Acer's ProDesigner BM270 lets designers spread their wings for $1,700
Users of the Acer ProDesigner BM270 can also virtually split the display's screen into several regions for easier multitasking. Each region can then be assigned to a specific application or project.
You also get a USB 3.0 hub, dual HDMI ports, 2 DisplayPorts, and 2 speakers. Design pros enjoy music, too.
Somewhere in between
Neither dirt-cheap nor ear-bleedingly expensive is HP's Z27, a 27-inch 4K Ultra HD Display that retails for just under $560.
It's a solid device offering true 4K (3840 x 2160) resolution, USB-C connectivity, and the convenience of a single cable. The Z27 weighs about 21 pounds.
HP's Z27 monitor: not too hot, not too cold
HP's entire Z Series of monitors comes with a powerful guarantee called Zero Bright Dot. If even 1 bright sub-pixel fails, HP will replace the screen. Impressive.
4K: more than okay
These 27-inch 4K displays are designed for work. But your customers can also use these hi-res displays for gaming, watching movies and videos, even admiring vacation photos. After hours, or course!
So there you have a taste of what's out there for 27-inch 4K displays. These hi-res monitors are big, bright — and maybe just what your customers need.
Back to top