October is shaping up as a big month for hardware.
Yesterday, Intel introduced its 9th Gen Core CPUs for gaming systems. Today, Google is expected to announce phones, tablets and more.
Also yesterday, both Facebook and HP upped their hardware games. Facebook introduced its first hardware product. And HP introducing a sleek, larger Chromebook convertible. Here's your update.
HP Chromebook x360 14
What if you combined the simplicity and low price of a Chromebook, the form-factor flexibility of a convertible PC, and a nice 14-inch display? That's what HP has done with its new Chromebook x360 14.
The new device runs on Google's Chrome operating system, and retail prices start at a relatively low $600. And like a convertible PC, the device's hinge lets it be used in 4 different positions.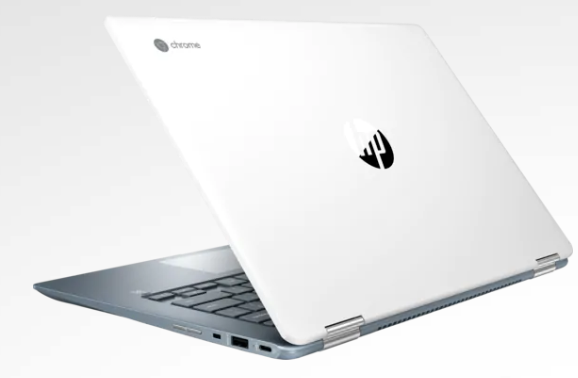 HP Chromebook x360 14: ease-of-use + convertible form factor
HP says its own research finds that nearly half of consumers (47%) believe the Chrome OS is easy to use. And 60% believe hybrid form-factors are more innovative, fun and relevant than a clamshell.
The HP Chromebook x360 has a 14-inch full HD touchscreen display. Under the hood, there's power galore with a choice of 8th Gen Intel Core i3 or i5 processor, Intel graphics, up to 64GB of SSD storage, and up to 8GB of DDR4 memory. Users also get 2 years of free Google Cloud storage, up to 100GB.
For listening to music, there's also a pair of Bang & Olufsun speakers. Battery life is promised at up to 14 hours. (For the full specs, check this HP page.)
The device weighs in at a reasonable 3.7 pounds. HP says it is the company's thinnest Chromebook yet, measuring just 0.63 inches thick.
HP is taking pre-orders now. It says the device will appear in BestBuy stores starting Oct. 21.
Facebook Portal
Facebook yesterday introduced its first hardware products, a pair of video communications devices for use in the home. Called the Portal and Portal+, they use AI for enhanced audio and video, Amazon's Alexa for voice control, and a long list of features to protect users' privacy.
The Portal features a 10-inch, 1280 x 800 display. The larger Portal+ has a 15-inch, 1920 x 1080 display that also pivots.
Both devices include two AI-powered features. One, called Smart Camera, automatically pans and zooms the device's camera to keep everyone in the room — up to 7 people — in view. The other, called Smart Sound, minimizes background noise and enhances the voice of whoever is speaking.
Facebook's new Portal (on left) and Portal+ 
Amazon Alexa is pre-loaded on both Portal devices. This lets a user start a video call by saying "Hey, Portal" and then saying the name of whoever they want to call. They can also use device's Alexa to check weather forecasts, get sports scores, order groceries and control smart-home devices.
Users of the new Facebook devices will be able to call non-Portal users on their Facebook Messenger-enabled tablets and smartphones.
Privacy is another feature of the Portal devices. That's important after Facebook last month revealed that the accounts of at least 50 million users were at risk due to the exploit of a vulnerability in the service's "View As" feature. Hackers stole Facebook access tokens, the company said, which they could then use to take over the accounts of other people.
To address privacy protection, Facebook says it will not listen to, view or store contents of Portal video calls. In addition, it has loaded the new Portal devices with privacy features, including:
> Both the mic and camera can be disabled with a single tap
> A camera cover lets the user block the lens, yet still receive incoming calls
> Password of 4 to 12 digits can be set to keep the screen locked
> Video calls are encrypted
> The AI technology runs on the device, not on Facebook's servers
Both Portal devices are set to ship in November, and pre-orders are open now from Facebook, Amazon and BestBuy.
The basic Portal has a retail price of $200, while the larger Portal+ will retail for $350. To encourage volume buying, Facebook is offering a special buy-2 price of $300.
So never mind the falling leaves. October is turning out to be hardware month.
Back to top