Looking for a fast-growing market to expand into? Check out wireless local-area networks. In this year's second quarter, businesses increased their purchases of WLAN gear by a healthy 9.4%, according to market watcher IDC.
That brought total business sales of WLAN gear to a global total of $1.48 billion. That's a lot of modems!
"This market is still in growth mode," says IDC researcher Nolan Greene. "WLAN is a critical enabler of end-to-end digital transformation strategies as wireless applications and devices continue to unlock new digital and business outcomes."
But be careful. Consumer purchases of that same WLAN gear fell in Q2, IDC says, and by a significant 7.2%.
Standards-driven
So what's behind the growth of WLAN gear to business buyers? In a word, standards.
The business world is quickly adopting the 802.11ac standard — and just as quickly abandoning the older 802.11n standard.
The new 802.11ac uses dual-band technology to support simultaneous connections of both 2.4 GHz and 5 GHz wireless bands. It also offers backward compatibility to 802.11b/g/n.
How popular is that? Well, among business buyers, the 802.11ac standard accounted for nearly 85% of dependent access-point unit shipments in Q2 and 92% of those revenues, IDC says. That was up from about 71% and 85%, respectively, in Q1.
Viewed the other way, the older 802.11n standard now accounts for just 15% of unit shipments and just 8% of revenue in the enterprise WLAN market. Looking ahead, IDC predicts that standard to be almost completely obsolete in the business world by year-end 2018.
Consumers differ
Over on the consumer side, the WLAN market is a lot less exciting. As mentioned above, overall sales fell in Q2, totaling $892.3 million worldwide, according to IDC.
The standards picture is quite different among consumers, too. There, the newer 802.11ac standard accounted for only 32% of shipments and 63% of revenue, IDC says.
That said, consumers did buy more 802.11ac gear in Q2 than they did in the year-earlier period. Worldwide consumer sales of 802.11ac WLANS rose nearly 14% in Q2, and unit shipments increased 36%, IDC says.
Top 5 suppliers
Okay, so if you want to enter this market, which supplier should you hitch your wagon to?
Your best bet is to take your pick from the 5 top enterprise WLAN vendors. They are Cisco, HPE-Aruba, Brocade-Ruckus, Ubiquiti and Huawei.
Cisco is the strong market leader with nearly 45% of all sales, and its WLAN revenue increased in Q2. HPE-Aruba also saw its business grow in the quarter, as did Ubiquiti and Huawei.
Huawei was notable for more than doubling its enterprise WLAN revenue in Q2, according to IDC figures. And only Brocade-Ruckus lost market share in the quarter.
The following chart, courtesy of IDC, shows details of the top 5 vendors' market share over the last 5 quarters: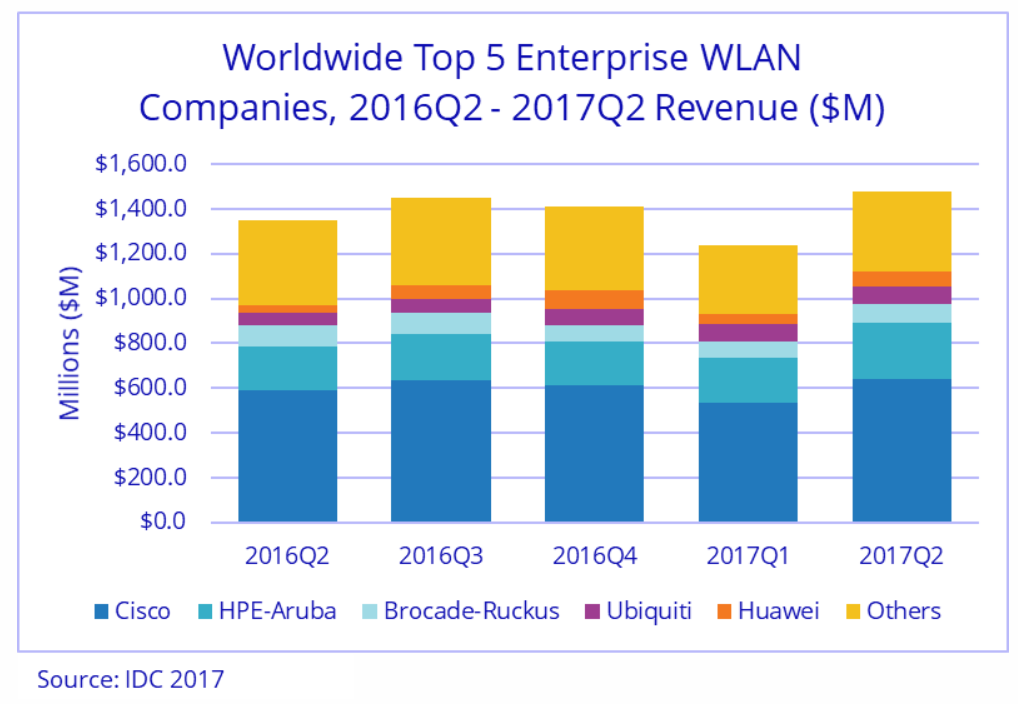 So don't overlook the business market for wireless LANs. This gear could communicate some extra revenue to your solution providers' business.
You may also enjoy:
Microsoft builds a public cloud your customers can trust
Intel Core X plus Optane memory takes gaming to the max
What do the new $1K smartphones mean for your business?
Back to top