Officially, the big CES 2018 show in Las Vegas doesn't open until Jan. 9. But hardware suppliers Dell, HP and Samsung are already announcing new PCs.
Here's your tech provider's update:
Dell XPS 13
Not a new system, exactly. Dell has instead refreshed its XPS 13, a 13-inch laptop. The new version is lighter and thinner than its predecessor, and up to 2x as powerful.
Under the hood, the XPS 13 has the dynamic duo of Windows 10 and an 8th Gen Intel Core processor, plus up to 1TB of SSD storage. A Linux version is being offered for developers, too.
The new version is substantially thinner at 3.4 mm (0.13 in.) and lighter at 2.7 lb.  The device's monitor has gotten a resolution upgrade, too. It's gone from QHD+ to 4K UHD.
The Dell XPS 13 laptop
Biometrics have been boosted, as well. Users of the Dell XPS 13 will have options of touch, voice or facial recognition. They can also use fingerprint ID with Windows Hello. And 4 integrated mics will help them navigate the Cortana personal digital assistant.
Battery life is promised at up to 19 hours. And the device is coated with Gore Thermal Insulation, said to help keep the fanless system cool.
Sales begin now with retail prices starting at just under $1,000. The developer edition, preloaded with Ubuntu Linux, retails for a slightly lower $950.
Samsung Notebook 7 Spin (2018)
Like Dell, Samsung has chosen to update an older system. The Notebook 7 Spin was originally introduced in 2016. Now it's being updated with an 8th Gen Intel Core i5 processor, Windows 10 and support for the Active Pen stylus. The new version is also lighter, at 1.53 kg (3.8 lb).
Like the earlier version, the 2018 edition of the Notebook 7 Spin features a 360-degree hinge for its 13.3-inch FHD touchscreen, so the system can be also be used as a tablet or media player.
The Samsung Notebook 7 Spin (2018)
Users will also get 256GB SSD storage, integrated far-field mic, USB-C port, backlit keyboard, and up to 15GB of free storage in the Samsung Cloud.
Shipments of the Samsung Notebook 7 Spin (2018) are set to begin sometime this quarter (that is, by March). Prices haven't yet been announced.
HP Zero Client
Okay, technically, this is not a CES 2018 announcement. But HP this week announced a pretty cool "zero client" system, with the unwieldy product designation of HP t310 G2 All-in-One Zero Client.
It's a PCoIP (PC over Internet Protocol) system based on the Teradici zero-client approach. And it's compatible with both Amazon and VMware virtual workspace environments.
In keeping with the zero-client approach, the system has no operating system, no application software, and no persistent user data stored on the device — in fact, there is no storage drive at all. Instead, it all happens in the cloud. Security is said to be enhanced too, as the system transmits only screen pixels, not sensitive data.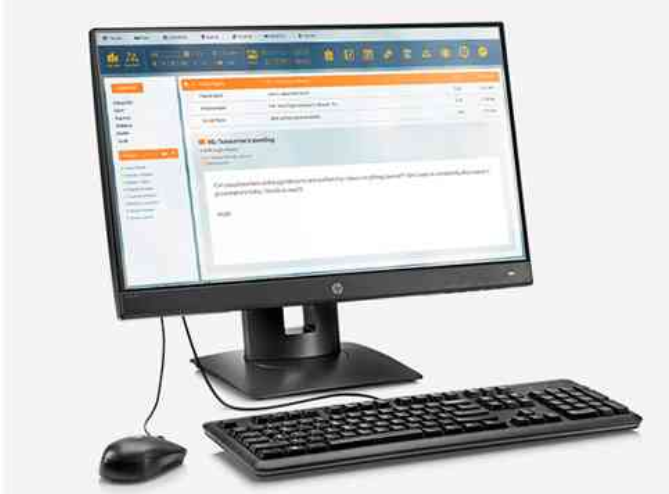 The HP t310 G2 All-in-One Zero Client
The new HP system does have 512MB of RAM, 32MB of flash (boot) memory and 6 USB-2 ports. All told, it weighs just under 12 pounds. (For more, check out the system's official tech specs.)
The system's display is large at 23.8 inches and offers FHD resolution. The system's low price should be attractive too, starting at $530. Shipments begin now.
If your clients are looking for up-to-the-minute laptops, tell them about the Samsung and Dell refreshes. And if they're adopting a zero-client approach, HP's new system could be just the ticket. 
Back to top