Dell's new laptop just might be the smartest, fastest PC around. Called the Latitude 9510, the device comes with not only the latest high-end Intel mobile processors, but also both AI and 5G built in.
The 9510 is part of a new Latitude family of PCs that Dell introduced this week, just a few days before the doors open onto the big CES 2020 conference. Dell says the Latitudes help usher in a "new era of PCs and displays."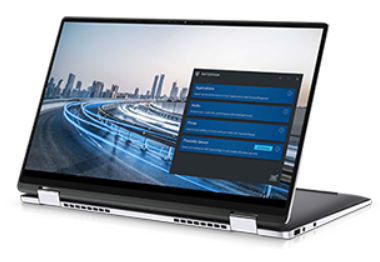 Dell Latitude 9510: 5G & AI built in
That may be a bit over the top. But on paper, the new Dell Latitude 9510 looks impressive. This 15-inch laptop is powered by a 10th Gen Intel Core processor (up to i7) with Intel vPro technology. Connectivity comes built in with Intel Wi-Fi 6 and 5G mobile broadband capabilities. Battery life is promised at up to 30 hours, roughly twice what most new laptops offer. And the laptop weighs in at a reasonable 3.2 pounds.
AI aids 4 areas
The coolest features are those based on the system's built-in artificial intelligence. Dell says its new Optimizer software uses AI and machine learning to improve performance in 4 key areas:
> Productivity: Dell's ExpressResponse feature uses machine learning to launch frequently used applications faster, switch quickly between them, and improve overall application performance — all based on its observations of the user's preferences.
> Battery life: Dell's ExpressCharge uses AI and machine learning to improve the PC's battery life based on the user's charging patterns and typical power usage.
> Logins: Dell's ExpressSign-in senses a user's physical presence, then enables fast and secure login. This feature borrows capabilities from both Dell's context-sensing tech and Microsoft's Windows Hello.
> Voice comms: Dell says users of the 9510 PC can "ditch the speakerphone," thanks to the device's high-performance speakers, powerful amp and 4 noise-cancelling mics. In addition, Dell's IntelligentAudio feature cuts conference-call echo and background noise, making voice calls clearer and easier to understand.
Shipments of the Dell Latitude 9510 are set to begin on March 26, with retail prices starting at just under $1,800.
If you're wondering how AI can help your PC-using customers, wonder no more. Dell's Latitude 9510 is one smart laptop.
Back to top