The school kids, they are a-changing. And to help educators serve their changing kids, Dell today introduced a 75-inch touch monitor, Windows 10 notebook, three Chromebooks, and high-powered charging cart.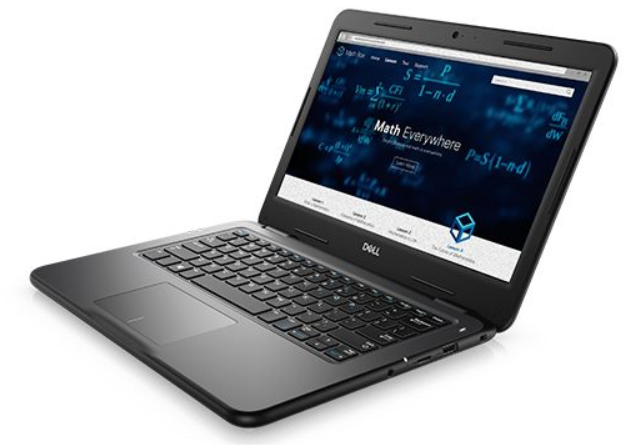 Dell 3300 Education: a Win10 notebook for K-12
Need evidence today's kids are different? Dell has it. The company recently surveyed more than 12,000 members of Gen Z, those born after the mid-1990s. By 2020, it's estimated, they'll account for 1 in 5 workers.
Dell's Gen Z survey respondents live in 17 countries and are 16 to 23 years old. Here's some of what they said:
> 80% aspire to work with cutting-edge technology
> 91% say tech would influence their job choice among similar employers
> 80% believe tech and automation will create a more equitable work environment
And here's your update on the new hardware Dell has rolled out for them:
Mobile PCs
Dell today introduced 4 PCs, one running Windows 10, the other three based on Chrome OS:
Latitude 3300 Education: Pictured above, it's a 13.3-inch Windows 10 notebook with an optional full HD display. For the processor, you have a choice of Intel Pentium, Celeron or Core (up to i5). The system packs up to 8GB of memory and 256GB of storage. Prices start as low as $300 for eligible schools, and go as high as $869 for a maxed-out system. Shipments start today. (More tech specs from Dell here.)
Chromebook 3100: This Chrome-based laptop features an 11.6-inch display on a 180-degree hinge, and up to 14 hours of battery life. Shipments are set for March, with a retail price starting at just $250.
Chromebook 3100 2-in-1: Similar to the 3100, but with a 360-degree hinge. Also shipping in March, it will retail for $360 and up.
Chromebook 3400: This system gives you a slightly larger 14-inch display, also with optional full HD. Battery life is promised at nearly 13 hours. This too will ship in March, with retail prices starting at $320.
Interactive Touch Monitor
Called the Dell 75 4K Interactive Touch Monitor, it's a 75-inch (diagonal) display with 4K resolution, designed for use in classrooms.
A feature called InGlass lets more than one person interact with the screen simultaneously. Students can use either their fingers or a passive stylus, 2 of which are included. And they can erase with the palm of the hand.
Another feature, Dell Screen Drop, lets the user raise or lower an image on the screen by pressing buttons for any of 3 height settings.
The monitor is set to ship in the spring. Retail prices will start at just under $6,000.
Charging Cart
It's called the Dell Compact USB-C Charging Cart Prewired for USB-C Laptops. The name pretty much says it all.
It's a cart with 36 USB-C power adapters pre-installed. That means it can charge up to 36 devices at the same time while plugged into a 12-amp wall outlet. Dell says its cart is up to 40% faster than standard round-robin systems
The new Dell cart is set to ship in March, with retail prices starting at roughly $2,250.
Get smart. This new K-12 hardware from Dell is designed for Gen Z.
Back to top