The scene at this year's CES 2018 conference in Las Vegas is futuristic, with displays of AI-powered robots for the home, fleets of self-driving cars and other technologies that don't work quite yet, but no doubt will sometime soon. But CES is also the scene for some new, good old PCs.
Here are highlights of some of the more interesting new devices from hardware suppliers Asus, Dell and Lenovo that your customers can use now.
Asus: small-form-factor PCs
The company announced a bunch of systems at CES 2018, including the Zenbook 13, a thin and light laptop; the X507 laptop; and V272 and V222 all-in-one PCs.  
But what really got my attention — and perhaps will get the attention of your customers — was the company's a new lineup of 3 small-form-factor PCs:
> PB40 mini-PC: This little guy is powered by an 8th Gen Intel Pentium Silver processor. If you need a silent option, it's also available as a fanless device powered by an Intel Celeron CPU. To save space, the device can be stacked with drives and other peripheral devices.
> PN40 mini-PC: Same choice of processors as the PB40, but smaller and lighter. It measures just 114 x 114 x 49 mm (approx. 4.5 x 4.5 x 1.9 in.) and weighs 700 g. (1.54 lb.).
> Chromebox 3: As the name implies, it's a tiny Chromebook. Unlike the others in its family, this device packs both an 8th Gen Intel Core processor and a USB C port.
Asus PN40 mini-PC is small and light.
Dell: 2-in-1 with 8th Gen Intel Core
Dell this week updated its XPS 15 laptop as a 2-in-1 device powered by 8th Gen Intel Core processors and running Windows 10.
With this new XPS 15 2-in-1 device, Dell says it's going for the sweet spot that will satisfy both hobbyists and professional creators.
Dell's XPS 15 2-in-1 has an 8th Gen Intel Core processor.
True to its name, the XPS 15 features a 15.6-inch display with 4K UHD tech. To make the images even sharper, the system also packs Radeon RX Vega M graphics.
For those aforementioned hobbyists, the XPS 15 comes with a pre-installed Xbox app.
Shipments of the Dell XPS 15 2-in-1 are set to begin in April, with retail prices starting at just under $1,300.
Lenovo: always-connected 2-in-1
The company's new Miix 630 is an always-connected 2-in-1 device running the Windows 10 S operating system (upgradeable to Win10 Pro for free). As the company says, that gives customers the power of a Win10 PC combined with the always-on and connected mobility of a smartphone.
The device's 12.3-inch display is detachable. And its full-sized keyboard is backlit. Both nice features!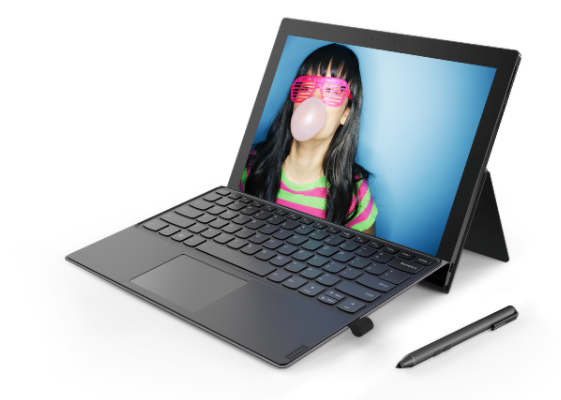 The Lenovo Miix 630 is always on, always connected.
The Lenovo Miix 630 is light at 2.9 pounds and thin at 0.6 inch. Battery life is promised at up to 20 hours of local video playback, and even longer in standby mode.
It's a fanless device powered by Qualcomm's Snapdragon 835 mobile PC platform. Also included is a Lenovo digital pen to use with Windows Ink.
Lenovo says shipments of the Miix 630 will begin in the second quarter of this year, with retail prices starting at about $800.
Sure, self-driving cars, smart robots and the like are definitely cool. But so are these systems. And unlike those futuristic technologies, these PCs are ready for your customers to use today.
Back to top