It may sound like a tall claim, but technology really can bring people together.
Consider 2 solutions in Intel Solutions Marketplace. Beabloo combines AI with digital signage to help retailers assess, analyze and improve their in-store customer experience. And Prowise gives teachers and students new ways to learn, study and even have fun.
If you're not familiar yet with Intel Solutions Marketplace, it's your online B2B platform for connecting with literally thousands of Intel partners. You'll discover products and solutions that can help you meet the increasingly complex needs of your customers.
So how can Intel-backed tech bring people together? Let's take a look:
Beabloo: Delivering the store of the future — safely
Since its founding in 2008, Beabloo has helped retailers improve their in-store customer experience with systems that supercharge digital signage with the power of AI. Retailers use Beabloo tech to optimize in-store campaigns, adjust product displays and automate processes.
Beabloo's solution, Active Customer Intelligence Suite (ACIS), is powered by an Intel NUC Mini PC. The system can collect a wide variety of in-store data, including the age and gender of those viewing messages (done anonymously to protect shoppers' privacy), and how many times content is viewed.
Beabloo's dynamic stretched display in action
Retail, of course, has been hard-hit by the Covid-19 pandemic. Beabloo has responded with a new product, Interaction Care. It's available in the Intel Solutions Marketplace.
Interaction Care protects retail employees and customers from health risks. It uses digital signage systems to suggest ways retailers can allocate personnel, redesign spaces, conducting real-time temperature checks of incoming customers, and more.
> Explore: Beabloo's offerings in Intel Solutions Marketplace
Prowise: smart screen for smarter students
The old days of a teacher endlessly lecturing a seated class are over. Today, education is far more interactive and collaborative.
That's where the Prowise Full Solution for Education comes in. You've heard of 2-in-1 PCs. Well, Prowise offers a 3-in-1: camera, touchscreen and PC. Together, these components encourage students to be physically active with educational games. They also let teachers bring in outside experts via Intel Unite videoconferencing.
Teachers log in with an NFC card that they hold against the screen. The system also protects the privacy of teachers and students alike, at levels that comply with GDPR and other privacy regulations.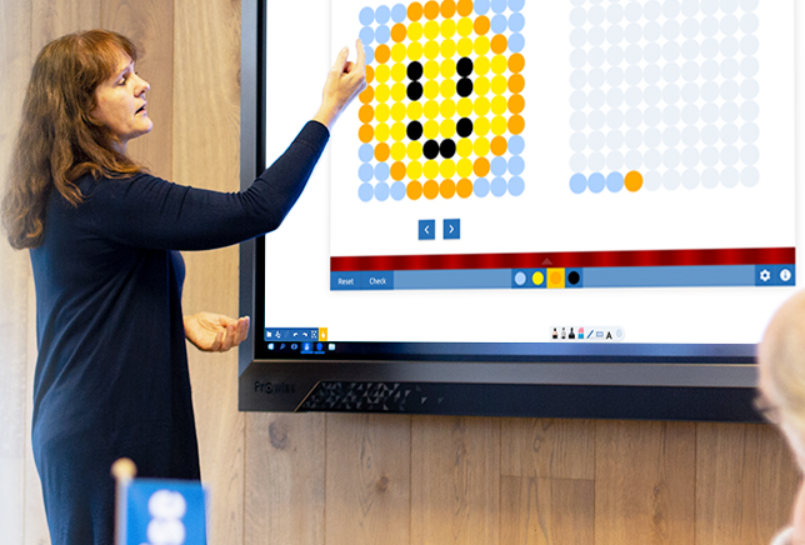 Prowise touchscreen in action
The Prowise camera uses Intel RealSense technology to register student movements in the classroom. This creates a 3D image of the student that interacts with the educational games. And notes on the system can be shared with all students, so they can study at home.
> Check it out: Prowise in the Intel Solutions Marketplace
Back to top