ASUS is having a busy time at the big Computex 2018 show this week in Taiwan. The company announced approximately 20 new products, including desktop and notebook PCs, a gaming smartphone, and a blood-pressure monitor.
That's too many new products to cover here, but here's your tech provider's update on the highlights:
> Win10 notebooks: The new ASUS ZenBook Pro 15 and ZenBook Pro 14 are Windows 10 notebooks powered by 8th Gen Intel Core i7 processors with Nvidia GeForce MX 150 graphics. The 15 weighs 1.8 kg. (3.9 lb.), the 14, 1.4 kg. (3.1 lb.), and both are just 18 mm (0.7 in.) thin. The keyboard rises on a device called an ErgoLift to both provide a more comfortable typing experience and improving system cooling. Both also offer dual-storage designs, with up to 512GB of SSD and 2TB of hard disk storage.
ScreenPad is a new feature, and it's available on the ZenBook Pro 15. It combines a touchpad with a full-color touchscreen for new ways of interacting with Windows apps. Already, several basic Microsoft products support the ScreenPad, including Word, Excel and PowerPoint. ASUS is also working on a new app called Sync, which will let users control their phones with a ScreenPad.
ASUS ZenBook Pro 15: Win10 notebook with ScreenPad interface
> Mini PCs: The company's new Mini PC ProArt series are designed for use by content creators. They're powered by 8th Gen Intel Core processors and Nvidia Quadro graphics, and they support Intel Optane memory. They're quiet, too, thanks to a fanless cooling system.
> All-in-One: The new ASUS Zen AiO 27 is a 27-inch PC with a 4K display, powered by an 8th Gen Intel Core i7 processor and Nvidia GeForce GTX 1050 graphics. The company says the device is ideal for design and other graphics-intensive work.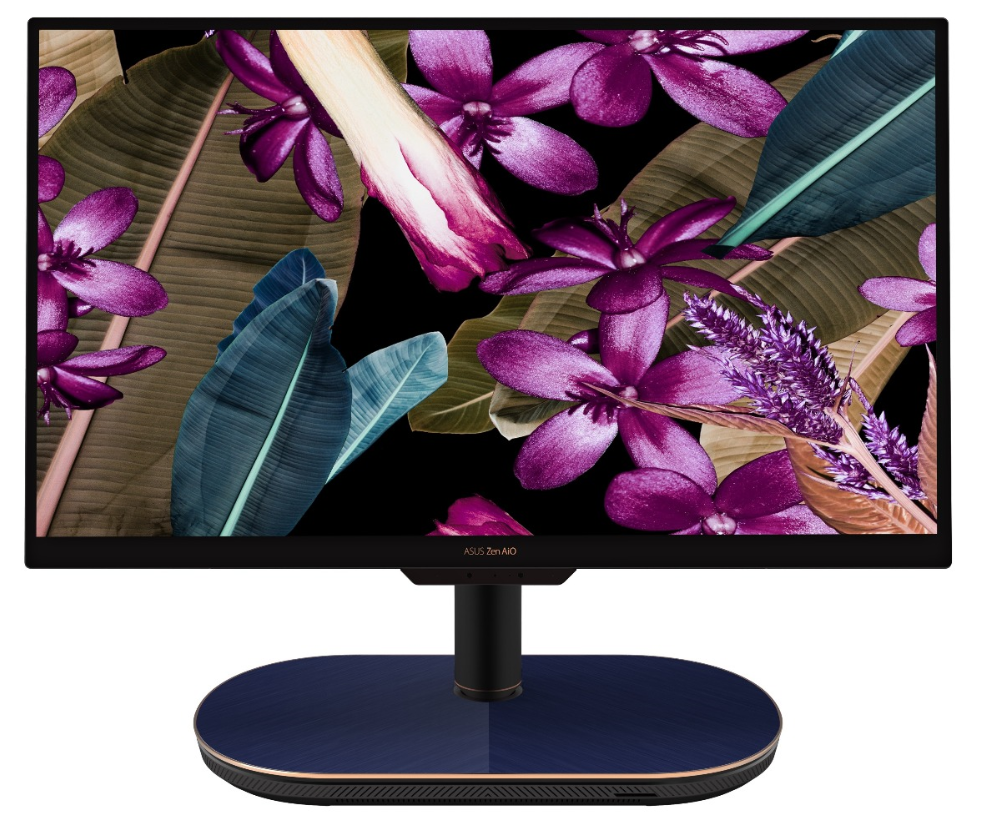 ASUS Zen AiO 27: a 27-inch all-in-one PC with 4K display
> Wearable blood-pressure monitor: The ASUS VivoWatch BP analyzes both blood-pressure measures and daily lifestyle habits (sleep, activity, heart rate, etc.), then provides the user with recommendations for controlling their blood pressure. Battery life is promised at up to 28 days.
ASUS VivoWatch BP: watching your blood pressure
> AI-powered convertible: Called Project Precog, this concept product is a dual-screen convertible notebook with AI. Both displays are touchscreens, so there's no keyboard or touchpad. ASUS says this device will support both Windows Cortana and Amazon Alexa voice-activated personal assistants.
> Gaming Smartphone: Called simply the ROG Phone, it's a 6-inch smartphone designed for high-performance mobile gaming. The device is powered by Qualcomm's Snapdragon 845 Mobile Platform (rated at 2.96 GHz) and Adreno 630 graphics processor.
To enhance the ROG Phone's gaming experience, ASUS is offering several expansion accessories. They include the TwinView Dock for dual-screen handheld mode; Mobile Desktop Dock for desktop-style gaming; and Gamevice controller with WiGig Dock using 60GHz Wi-Fi for big-screen gaming
Still to come from ASUS are shipping dates and suggested retail prices for all these new products. Meantime, if your customers are looking for innovative hardware solutions, they may want to look at these new ASUS devices.
Back to top