Are tablets ready to take over for laptops? Some of your customers are probably considering that question now — and rightly so.
To be sure, the latest generation of tablets has grown up fast. Their processors are fast, their batteries last all day, and their list of available apps grows faster than a weed.
But still, the laptop isn't dead yet. Sure, pro tablets offer more power and flexibility than ever before. But they also have serious drawbacks. Your customers should keep these drawbacks squarely in mind.
Let's take a look at the pros and cons of two obvious front-runners: the Apple iPad Pro and Microsoft's Surface Pro 7.
Apple iPad: the revolution starter
The iPad was born on April 3, 2010. For some, that's the day when Apple introduced a frivolous time-waster. For others, the date marks the launch of a device so revolutionary, it signaled the laptop's inevitable death.
Well, the laptop is still alive and well. And Apple still sells its lineup of eminently capable MacBooks.
But Apple also sells its iPad Pro tablet with this tagline: "Your next computer is not a computer."
Apple may well be right. The company's latest 11- and 12.9-inch iPad Pro models (starting at $799 and $999, respectively) include Wi-Fi 6 and 4G cellular connectivity, 64-bit A12Z Bionic processors, and 6GB of RAM.
Those specs may not impress when compared with those of a modern laptop. But they're an order of magnitude beyond the business laptops of just a few years ago.
Also, Apple now augments the iPad Pro with its new Magic Keyboard. This accessory combines a backlit keyboard, a trackpad and a sturdy "floating cantilever design" that makes all-day work a realistic proposition.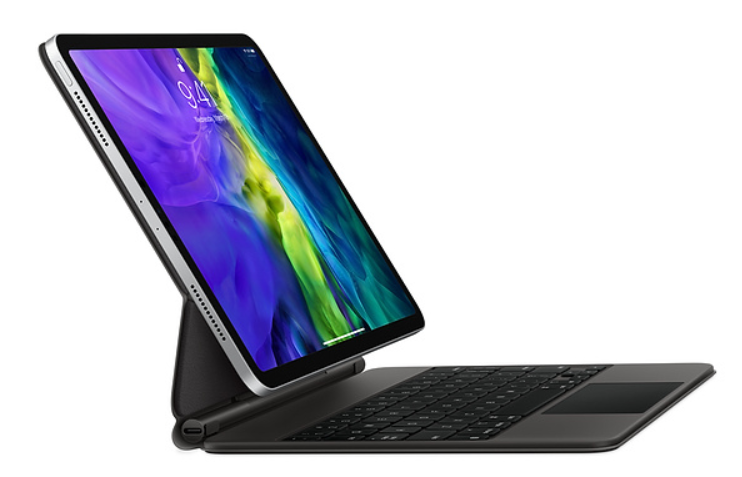 Apple 11-in. iPad Pro with 'floating' Magic Keyboard
Is the iPad Pro the ideal business machine? In a word, no. But it's not the hardware that will hold your customers back. It's the operating system.
While iPadOS 13.5 is light years ahead of its previous iterations, it's still a tablet OS. That means your customers can use only made-for-tablet versions of their favorite apps, not the originals.
Is that a deal-breaker? That's a decision your customers will have to make for themselves.
Microsoft Surface Pro: a tablet that eats like a laptop
Critics agree that Microsoft's first Surface ultra-book was a piece of ultra-crap. But over time, the Surface Pro has grown into a force to be reckoned with. And a big seller. For the first three quarters of Microsoft's current fiscal year, Surface sales have topped $4.4 billion.
Buying today's Surface Pro 7 will set you back at least $1,200 — as much or even more than you'd pay for a decent laptop. But the device sure does deliver on its promise of flexibility and convenience.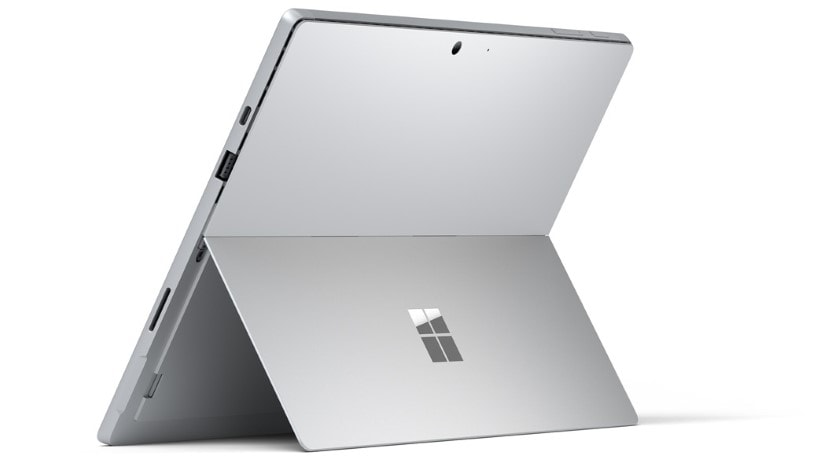 Microsoft Surface Pro 7: guts of a laptop & full Win10
Both the price and the delivered promises are due in no small part to a trio of available dual- and quad-core Intel Core processors. Microsoft wisely mated them with up to 16GB of DDR4 RAM and as much as a terabyte of solid state drive (SSD) storage.
If those sound like honest-to-goodness (if not downright impressive) laptop specs, that's because they are. And that's Surface Pro's ace in the hole.
With the Surface Pro, Microsoft integrated the guts of a standard laptop, then mated it with a full version of Windows 10. This ensures that devotees of desktop apps such as the Office and Adobe suites can have their proverbial cake and eat it, too.
But here's the catch: The Surface Pro is as bad at being a tablet as the iPad Pro is at being a laptop.
Despite the Surface Pro's convenient kickstand, the tablet itself is ungainly. Relaxing with Netflix or Minecraft after a hard day's work is possible. But it's nowhere near as comfortable or convenient as it would be with the iPad.
More issues arrive at the end of the day, when the Surface hardware is burning hot and the battery is oh-so-low.
A standard laptop has a lot more space for one or more high-capacity batteries and efficient cooling mechanisms. Not so the Surface Pro. Microsoft did what it could, but the tablet's form factor offers only so much space.
All about the trade-offs
Somewhere out there in the future is a cool, light and transparent slate. No matter where you are, it maintains a blazing-fast connection to servers filled with every app and every shred of information known to man. Plus, this tablet is so cheap, Amazon is practically giving it away.
Until that future is realized, today's tablets present some difficult choices. You'll have to spend more money than you want in return for less performance than you need. Such is the story of technology. Such is our legacy.
If it's any consolation, even the computer on Starship Enterprise couldn't make Captain Picard a decent cup of Earl Grey. In the end, it's all about the trade-offs.
Back to top