Windows rules the operating system world, right? Don't be so sure.
To be sure, Windows is still the top OS on desktop and laptop PCs. But for the first time, Android is challenging Windows as the world's most popular operating system on the internet across all form factors, according to new figures from web analytics company StatCounter.
StatCounter finds that as of last month, Windows held only a 38.6 percent share of worldwide OS internet usage market share. It also found that for the first time, Android is nipping at Windows' heels with a comparable market share of 37.4 percent. That's a split of just 1.2 points.
Those percentages represent the OS share on devices including desktops, laptops, tablets and mobile phones. StatCounter gets the figures by recording billions of page views on more than 2.5 million websites around the world. For each page view, it determines the browser, OS, screen resolution and device type.
This chart, courtesy of StatCounter, shows how the two OSes have converged over the last 5 years: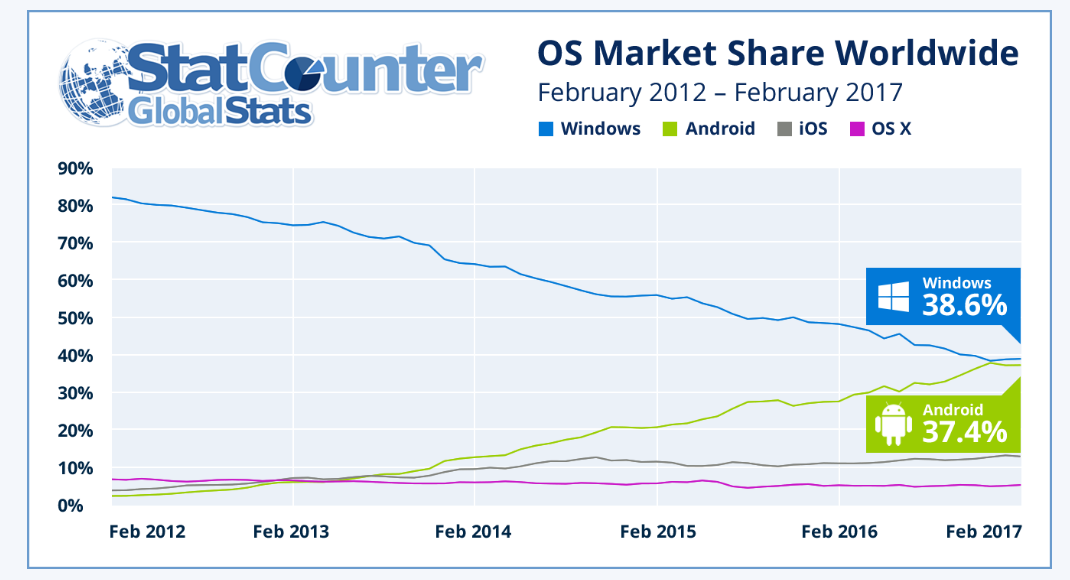 Surprised? So is StatCounter's CEO, Aodhan Cullen. "The idea of Android almost matching Windows would have been unthinkable 5 years ago," he says. Back then, Cullen points out, Windows commanded an 82 percent global market share, while Android held just 2 percent.
The Smartphone Difference
Okay, so what's behind the shift? Cullen points to 3 main factors: The growth of smartphones, the slowdown in sales of traditional PCs, and the impact of Asia on the computing marketplace.
Smartphones are key. If you look at just desktop and laptop PCs, Windows is still the leader by a huge margin, running on nearly 85 percent of all systems, StatCounter says. But that's only part of the story. "Windows has won the desktop war," Cullen adds, "but the battlefield has moved on."
In fact, internet usage by tablets and mobile phones has exceeded desktop/laptop usage since Oct. 2016, StatCounter finds.
Sure, on PCs it's still a Windows world. But the world has gotten a lot bigger. Will Android pass Windows in the coming months? Stay tuned.
You may also enjoy:
Windows 10 Creators Update: what's coming soon
Looking for PC sales growth? Follow HP's lead
Back to top