Today anyone talking to their PC is most likely cursing over a lost file or unresponsive printer. But that's about to change. Amazon is teaming up with several top-tier PC makers to integrate its Alexa voice-controlled personal assistant.
This week at the big CES 2018 show in Las Vegas, PC suppliers HP, Acer and Asus have already announced systems that will integrate with Alexa. And Lenovo is expected to join them.
In all cases, Alexa will be pre-installed as a Windows 10 app. Users will activate Alexa by speaking to their PCs' far-field mics. And Alexa will answer questions with on-screen visuals, the way Cortana does.
The moves follow an agreement, made late last year between Microsoft and Amazon, to integrate Alexa with Windows 10. It was a bit surprising because Win10 already has its own voice assistant, Cortana. But as Thurott.com points out in a blog post today, Alexa already offers more than 25,000 "skills" while Cortana has a mere 300 or so.
No going it alone
Indeed, partnerships are turning out to be essential to success in the voice-activated market. Both Amazon and Google are making deals for the Alexa and Assistant services, and with not only PC makers, but also suppliers of TVs and home-entertainment systems, kitchen appliances and security gear.
"Everything going forward is about partnership," Gary Shapiro, chief executive of the Consumer Technology Association, which produces CES, told the Wall Street Journal. "No company can be successful by itself."
Here's your quick rundown on what's been announced at CES so far.
HP
The company has enhanced its Pavilion Wave desktop system to accept voice interactions with Alexa. Voice-control is now integrated with the device's applications. This means users will be able to use voice commands to perform tasks that include controlling music, setting timers and alarms, and browsing the web.
As a courtesy, a new custom LED on the Pavilion Wave will indicate to users when Alexa is listening. And thanks to Intel's Smart Sound Technology, which delivers 360-degree "reflective audio," users of the HP desktop will be able to interact with Alexa from wherever they are in the room.
The Pavilion Wave isn't shipping yet. Once it does, this system will retail starting at $550. You can get more product details from this HP Pavilion Wave page.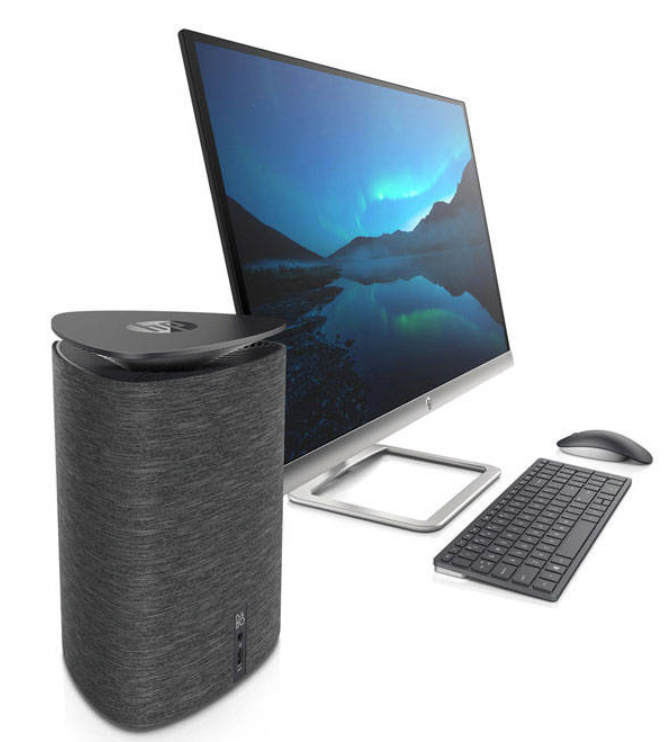 HP's Pavilion Wave desktop system
Acer
The company says it will add Alexa support to select devices in its Aspire, Swift and Switch notebook lines, as well as to its Aspire all-in-one PCs, in the first quarter of this year.
Acer says its Alexa-supporting models will include the Aspire 5, Aspire 7, Spin 3, Spin 5, Switch 7 Black Edition, Swift 3, Swift 5, Swift 7, Aspire Z24, Aspire U27, and Aspire S24.
Like HP, Acer is using Intel Smart Sound Technology to handle the voice interactions.
Other Acer devices are getting Alexa support, too. Acer's Air Monitor already works with Alexa. Soon so will the company's V6820M and V6820i 4K UHD projectors. For these, users will need a second device, either an Amazon Echo or Alexa-compatible PC, as a go-between.
ASUS
Not a lot from the company beyond a new commitment to enhance what it calls "select models" of its ZenBook and VivoBook lines with Alexa. Asus says the new systems will be announced sometime in the first half of the year.
In other words, watch — or even better, listen to — this space!
Back to top