Intel is promoting a new concept to change how partners think about selling and developing PCs. The concept, which Intel calls Desktop Platformation, aims to move beyond PC components and instead focus on the overall end-user experience.
The Platformation concept was presented at Intel Partner Connect 2020, a virtual event held last month, by Kristen Myers, a product marketing manager at Intel.
As Myers explained, partners can benefit by thinking beyond PCs as simply a collection of hardware components. Practioners of Platformation also think about software, solutions and support — and how these elements combine to create an experience delivered to the end user.
Here are 5 ways Intel's Platformation concept could change how you think about PCs:
1) Platforms
As the name implies, at the heart of Platformation are platform segments. Intel has identified 4 of its biggest PC segments:
> Creator: PCs used by graphic designers, animators, illustrators, photographers, video makers, and others of their ilk
> Gaming: Systems for enthusiasts hungry for speed, speed and more speed
> Workstation: Powering engineers, designers, architects and other technical workers
> Commercial: Mainstream PCs for users engaged in word processing, spreadsheets, email, web browsing and other office work
Users in each of these platform segments have a unique set of requirements and expect a unique type of experience. Each, in turn, also demands a unique set of PC components.
The following chart, courtesy of Intel, breaks it down: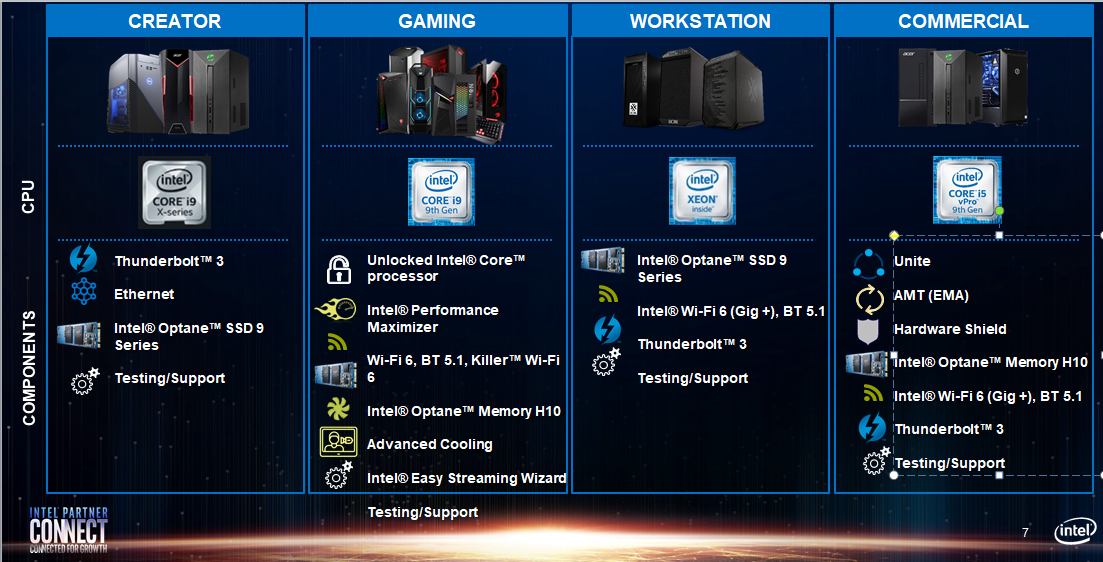 2) Components
When it comes to Platformation, one size does not fit all. Instead, the concept calls for partners to pick and choose components based on what will deliver the best overall experience for a specific class of users. Here are some of the options:
> CPUs: Gamers are looking for unclocked performance. Commercial users may want features such as remote manageability and hardware-based security. Workstation users want server-like performance. And creators performance, reliability and bandwidth.
> Wi-Fi: Every user wants a fast, reliable and secure connection to the internet. Intel's Wi-Fi 6, introduced last year, delivers gigabit speeds, up to 75% lower latency, 4x the network capacity, compatibility with Bluetooth 5.1, and WPA3 security. For especially fast and responsive connections, users can also hook up a Wi-Fi 6 router. A more affordable option is Wi-Fi 5 with Intel's AC 8265 parts.
> Thunderbolt 3: This port uses a standard USB-C connection to deliver fast 40 Gbps connectivity to a wide array of components, including external storage and multiple 4K displays. Over 600 peripheral devices from a wide range of suppliers now work with Thunderbolt 3.
> 2.5G Base-T Ethernet: Intel is offering this level of networking performance with the I225 Ethernet controller. It uses the same connector and cable as a 1G controller, and its backwards compatible, meaning it works with Cat. 5a network cables over up to 100 meters.
3) Support
Specifying and buying a PC is just the beginning. Over time, users also need support. Their requirements change. Their systems break down. Malware attacks happen.
Intel partners need support, too. Intel offers them post-sales support, design-in tools and training. Intel also offers platform-testing services to help you increase your product quality, lower support costs, and speed your time to market.
Partners can also take advantage of Intel's testing facilities. These are expertly fitted out with acoustic chambers and labs for thermal, power supply and other testing.
4) Value
Intel's Platformation concept offers added value to partners in 3 important areas:
> Cost savings: Some of these savings can come from advanced components. For example, by using Thunderbolt 3, you can reduce the number of ports needed. Another area is testing. If you qualify for Intel's free platform testing, that could save you up to $10K per design that you'd otherwise have to pay a third party.
> Cross-selling: Basically, a way to bundle components and increase the value of each customer's sale — while also improving the user's overall experience. For example, you might offer a customer Wi-Fi 6 on its new fleet of laptops. That would result in a bigger sale for you, and faster, more secure connectivity for the user. The proverbial win-win.
> Higher Margins: Premium products command a premium price. For example, serious gamers have shown a willingness to pay more for faster rigs. They see it as the price of winning. For their providers, these higher prices also deliver higher margins.
5) Regulations
New energy regulations are coming. Thinking with Platformation can help you prepare for them.
For example, California has defined a new energy standard that requires PCs to lower their power use while idling by 50%. Using 2016 as the baseline, this new standard is likely to go into effect next year, and it will be mandatory. Intel's own testing finds that only about 2% of all desktop systems in the channel could pass this today.
Similar new requirements are coming soon from energy programs in the U.S., Europe and Japan.
Platformation thinking offers 4 ways to meet this new requirement: move from hard drives to SSDs; use a modern standby system; reduce board power; and increase the efficiency of the power supply. You can check out some of Intel's recent energy solutions here.
Today's takeaway: To develop and sell desktops, think beyond just hardware components. Think Platformation and the overall user experience.
Back to top