The holidays area coming, and that means gifts. What to buy for your discerning tech lover?
Here are my recommendations for 5 cool gadgets the techies on your list will love.
1. Amazon Key
> Perfect for: The online shopaholic
> Price: $249 and up
Not only is big brother watching, he's got a key to your house. But don't worry, it's just so the delivery person can put your Amazon boxes inside the foyer. No more soggy cardboard.
If your giftee is an eligible early adopter -- you can check their status on this Amazon page -- then Amazon will send someone to install his or her keyless entry and monitoring system for free. Once the system is set up, users can dial into their smartphones to get a live video feed of the front door.
The included app runs on both iOS and Android. Start it up, and it will notify you when your package is close by, ask permission to let the delivery person in — and show you the whole thing in real time.
2. Sennheiser Momentum 2.0 On-Ear Wireless with Active Noise Cancellation
> Perfect for: The city-dwelling music enthusiast
> Price: $399 
Professional musicians have been using Sennheiser audio gear for years — it's one of the best names in the business. But regular consumers might not understand what all the fuss is about. That is, until they hear it.
Yes, the price could be described as "reassuringly expensive." But the sound you get for the money is amazing.
What's also amazing is the sound you don't get. Like Bose, its more consumer-focused competitor, Sennheiser has been working for years to perfect its noise-cancelling tech.
These Momentum ear-goggles also look cool — more than you can say for similar gear from Bose.
3. Nintendo Entertainment System: NES Classic Edition
> Perfect for: A 40-something with a powerful sense of nostalgia
> Price: $230
Sure, the computing power inside the original NES — first-in-class though it was at the time — was little more than an abacus compared to the super-computing smartphone in your pocket today. But can your iPhone adequately sate the nostalgia you feel at the site of that ubiquitous, grey box from Japan?
If the answer is a resounding "no," then Nintendo has just the thing for you. Compared with the original, the NES Classic Edition is tiny. But it still manages to pack in 30 classic games, including Super Mario Brothers, Mega Man and The Legend Of Zelda.
And unlike it's ancient ancestor, this little piece of gaming history has an HDMI output. You know, so you can hook it up to a TV made after 1995.
> Perfect for: The aspiring auteur
> Price: $399
George Lucas wishes he had one of these when he was in film school. Spark really does tick all the boxes. It flies, shoots hi-res video, recognizes your face, and responds to your hand gestures.
To launch Spark, just look it in the "eye." Facial-recognition unlocks the unit and initiates takeoff.
You can control Spark with your smartphone. But it's way cooler to take advantage of Spark's deep-learning hand-gesture recognition. Wave your hands in the air like you just don't care, and Spark will take off, hover, land, and shoot selfies as long as the battery holds out.
Spark can also recognize objects and track them through space. So, if your giftee is, say, a skateboarder, the drone will zig and zag along in front of him or her, catching the action like a well-paid X-Games camera person.
> Perfect for: The person who has (almost) everything
> Price: $3,797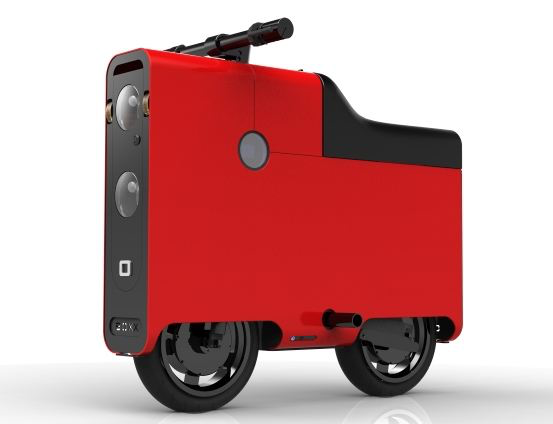 The word "scooter" doesn't quite cover it. This is a two-wheeled electric commuting vehicle. BOXX has no fluid and no exhaust. So you can keep in your apartment if you don't have a garage.
The BOXX scooter can accommodate any rider from 5 to 6.5 feet tall. Those living in San Francisco will be happy to know that BOXX's electric motor — weighing just under 10 pounds itself — will easily carry 300 pounds up any hill.
No, it's not cheap. But it is small, comfortable, and looks like it just fell off a Sci-Fi movie poster. It's also good for the environment, great for city living, and stupendous for the thrill-seeker who has everything. They sure don't have one of these!
Back to top