This is a big week for Intel, its partners and customers. Yesterday, the company held its Intel Data-Centric Innovation Summit in Santa Clara, Calif., and made several important announcements.
Here's your tech builder's update.
Processors
Navin Shenoy, GM of Intel's data center group, kicked off the event by presenting Intel's new roadmap for its Xeon Scalable processor platform.
He revealed that Cascade Lake is the codename for a future Intel Xeon Scalable processor that will ship later this year. Based on 14nm technology, Cascade Lake will also introduce Intel Optane DC persistent memory and a set of new AI features called Intel DL Boost.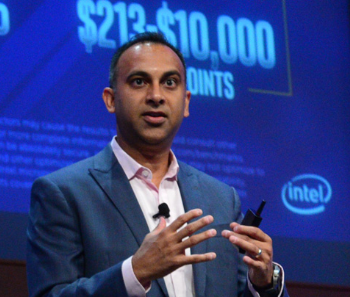 Navin Shenoy, GM of Intel's data center group
This AI feature, Intel says, can process images 11 times faster than the current generation of Xeon Scalable processors.
Cascade Lake will be followed by Cooper Lake, also built on 14nm technology, sometime in 2019. Shenoy said Cooper Lake will add significant performance improvements, new I/O features, a deep-learning function called Bfloat16, and additional innovations in Optane DC persistent memory.
What about 10nm tech? That's coming, too, in the form of Ice Lake, Shenoy said. This Xeon Scalable processor is planned for 2020.
SSD
Intel also introduced what it says is the company's densest drive, the Intel SSD DC P4500. It's a data-center solid state drive in a "ruler" form factor, measuring 12 x 1.5 x 0.3 inches. And it has a storage capacity of 32 terabytes (TB).
The P4500 uses Intel's 3D NAND technology, which stacks memory cells on top of each other, similar to the way a high-rise building stacks floors. On the P4500, memory cells are stacked 64 layers deep.
Intel SSD DC 4500: just 12 in. long, packing 32TB
The P4500 is also cool. Intel says that when compared with traditional SSDs, the P4500 requires just half as much airflow to keep cool. "Thermals are a major factor in the operations and expense of a data center," says Wayne Allen, Intel's director of data center pathfinding. "Cooling alone can be the biggest cost."
There are other benefits. When compared with a hard disk drive (HDD), the P4500 needs just 1/10 the power and 1/20 the space, Intel. Plus, with no moving parts, it's silent.
Allen's team wanted the drive to provide a full petabyte of storage in a standard 1U server slot. They did it. Thirty-two P4500 drives will be able to fit into that 19 x 1.75-inch slot. And 32 drives x 32TB per drive = 1,024 terabytes, or 1PB.
Memory + Storage
Intel also outlined a new vision for how data is stored and accessed. Intel's new idea: combine its Optane memory with QLC 3D NAND technology.
This way, data centers can accelerate the speed of their most frequently used data. They can also use flash for massive but less-frequently-used data capacities.
Intel Optane + QLC: best of both
"The two technologies bridge the wide gap that exists between data that's being worked on and data that's waiting to be accessed," explains Rob Crooke, GM of Intel's non-volatile memory solutions.
Intel says a typical configuration could include its SSD D5-P4320, a data-center SSD that stores up to 8TB. That's enough, Intel adds, to consider replacing a HDD.
SmartNIC
Intel is expanding its connectivity portfolio with a new and innovative SmartNIC (network interface card) product line code-named Cascade Glacier.
It's based on Intel Arria 10 FPGAs and enables optimized performance for Intel Xeon processor-based systems. Intel says customers are sampling Cascade Glacier now, with production shipments set to begin in Q1:19.
Intel Select Solutions
Intel introduced 3 new solutions to this program, one each for AI, blockchain and SAP HANA.
The AI solution offers Big DL on Apache Spark. The blockchain solution is for hyperledger fabric . And the SAP HANA solution is for certified appliances.
Intel Select Solutions are hardware and software bundles that have been verified and validated by Intel. They're designed to help Intel partners get solutions to market with ease and speed.
During his presentation, data-center GM Shenoy called Intel Select Solutions "absolutely critical," adding that it gives partners the "easy button."
Back to top