Server sales are slipping. AI is driving the need for new skills. And gaming GPU are growing gangbusters.
That's the latest from top IT market watchers. Here's your tech provider's update.
Server sales fall nearly 12%
In this year's second quarter  2.7 million servers were shipped worldwide. Their sales totaled $20 billion.
That's a lot of hardware, but as market watcher IDC points out in a new report, it's also down from the second quarter of last year by 9.3%. Those dollar sales were down, too, by an even higher 11.6%.
All classes of servers were affected. But high-end server sales dropped the most precipitously in Q2, by nearly 21%.
As IDC points out, all this marks the worldwide server market's first decline since Q4 of 2016.
So what's ailing the market? In part, nothing. Year-earlier sales realized unprecedented growth, IDC explains, meaning it would have taken a second miracle to register an upturn.
That said, the server market did face some headwinds. These included a purchasing slowdown on the part of cloud providers and hyperscale customers. And enterprises slowed spending, too, due to what IDC calls "existing capacity slack" and "macroeconomic uncertainty."
AI drives need for new skills
The implementation of artificial intelligence and smart automation will create a need for some 120 million workers in the world's 12 largest economies to be retrained or reskilled.
That's according to a new report from IBM. The report is based on a survey conducted by the company's Institute for Business Value, which reached more than 5,670 executives in 48 countries.
Skills are running short already. Only 41% of the CEOs surveyed by IBM say they now have the skills, people and resources needed to execute their business strategies.
What's more, the time needed to retrain workers has increased by more than 10x in just the last four years. In 2014, retraining an employee to close their "capability gap" took just 3 days. Now, IBM finds, that same level of training takes 36 days.
The worst part? Fully half the executives surveyed admit they have no skills-development strategies in place to address their largest skills gaps. Ouch.
GPUs gain for gaming
Looking for a big, fast-growing market? Look into gaming.
The installed base of x86 gaming consoles and PCs will grow from 700 million units worldwide last year to more than 900 million units by 2021, predicts Jon Peddie Research (JPR). The following chart, courtesy of JPR, shows the growth since 2016: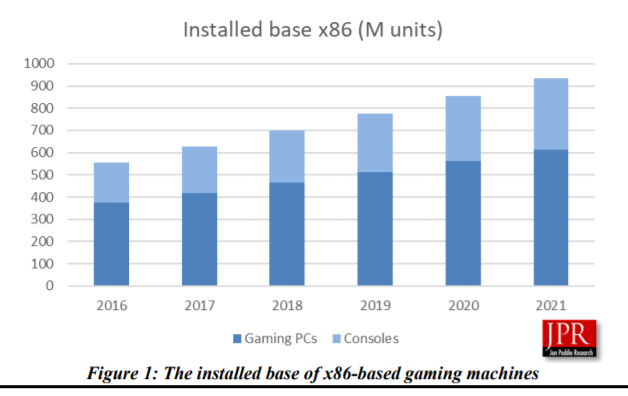 The graphical processing units (GPUs) that support all those gaming systems are in high demand, too.
On just PCs, annual shipments of x86-based GPUs will rise from about 48.1 million units last year to nearly 50 million units this year, a 4% increase, JPR predicts.
Consoles shipments of GPUs are far higher. JPR predicts these shipments will rise from 235.2 million units last year to 260.1 million this year, an increase of nearly 11%.
In terms of dollars, JPR estimates that the PC gaming GPU hardware market was worth $34.6 billion last year. By 2022, it predicts, those sales will total more than $39 billion.
Those gamers are doing a lot more than killing time and having fun. They're also funding a huge and fast-growing business.
Back to top