Your IT suppliers are rushing to the cloud. But how about your clients?
Until now, we weren't sure. But now we are, thanks to a new report from management consultants McKinsey & Co.
There's no question about suppliers. To give just two examples: Intel CEO Brian Krzanich recently called the cloud "the most important trend shaping the future of the smart, connected world — and thus Intel's future." And Oracle today announced Infrastructure as a Service (IaaS) offerings it says are 11.5 times faster and 20 percent less expensive than those of competitors.
Now it's the turn of your data-center clients. "The cloud debate is over," the McKinsey authors boldly proclaim. "Businesses are now moving a material portion of IT workloads to cloud environments."
Specifically, they add, the next 3 years will see a huge shift. Businesses will stop building IT. Instead they'll be consuming it.
If McKinsey is right, the implications for solution providers serving data-center clients should be nothing less than huge.
Big Shift
The new McKinsey report is based on several surveys the consulting firm conducted. One main survey, entitled the IT as a Service (ITaaS) Cloud Survey, reached approximately 800 CIOs and IT executives worldwide. Respondents worked at companies ranging from small businesses to Fortune 100 corporations.
As the chart below, courtesy of McKinsey, shows, respondents plan to reduce the number of workloads housed in on-premises environments by 2018. And to substantially increase their adoption of dedicated private clouds, virtual private clouds and public Infrastructure as a Service (IaaS) offerings.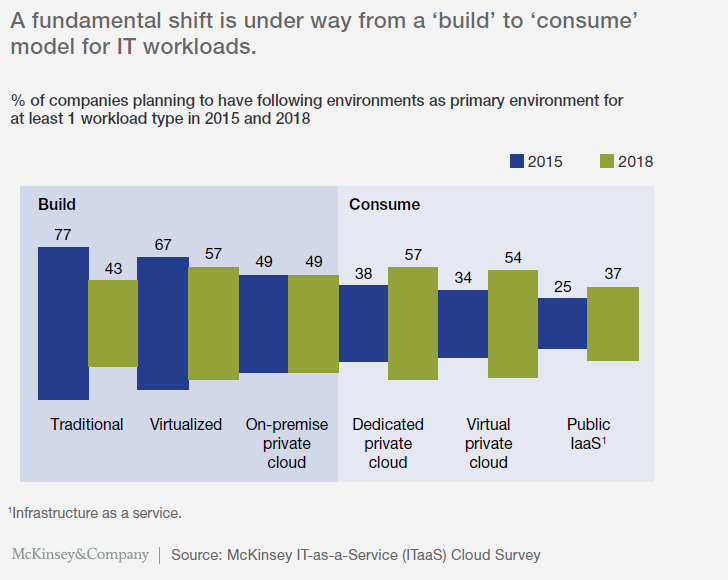 The same survey also finds the move to the cloud happening faster at large enterprises than at SMBs. The following chart, also courtesy of McKinsey, is less than crystal clear. But hopefully you can see that while 71 percent of respondents working at large enterprises plan to move to virtual private clouds by 2018, only 57 percent of those at midsize organizations, and fewer than half (49 percent) of those at SMBs, plan to do the same.
Similarly, the chart shows that while more than half (51 percent) of respondents at large organizations plan to move to IaaS by 2018, only 40 percent of those at midsize firms, and only a third (33 percent) at SMBs, plan to do the same.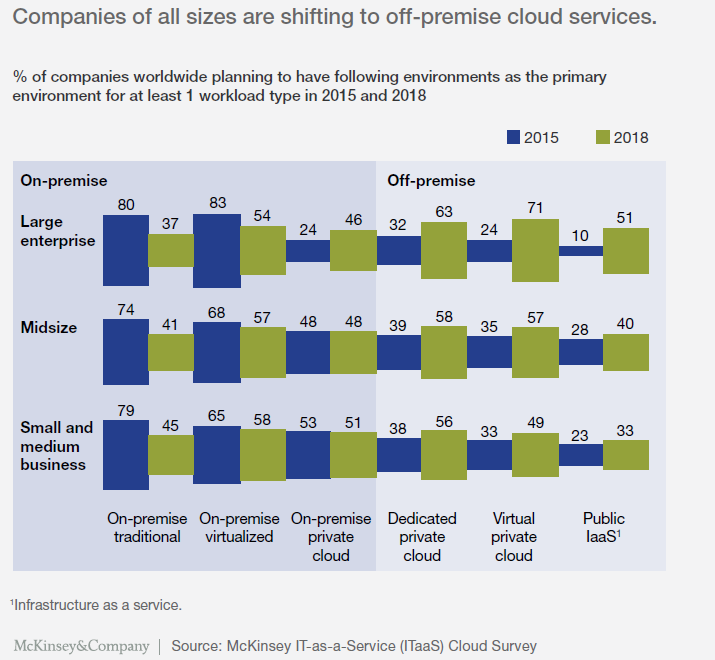 A quick note on definitions: McKinsey defines large enterprises as those with annual revenue of $5 billion or more. It defines SMBs as organizations with fewer than 1,000 employees. And it defines all other organizations as midsized.
Big Implications
So what's the main takeaway for solution providers? Get on the right side of the cloud.
As the McKinsey authors write, "The rate and pace of this shift portends greater headwinds for on-premises IT vendors." Those same headwinds could also hurt sluggish IT solution providers.
At the same time, the authors add, "This transition means larger gains lie ahead for cloud-service providers of off-premises cloud infrastructure services."
And that should be you.
Back to top