Data-center solutions are complex. But they also need to be high-quality, dependable and fast.
Intel Data Center Blocks can help.
Intel Data Center Blocks (DCBs) are pre-validated server systems that offer tech providers a simplified path to market.
By offering Intel DCBs to your data-center customers, you can free up resources. And you can focus instead on providing valued-added applications, services and support as revenue-generating operations.
Even better, Intel DCBs support the latest Intel technologies. That includes the 2nd Generation Intel Xeon Scalable processors, Intel Optane DC persistent memory and Intel Speed Select Technology.
Intel DCBs are available in configurations optimized for various workloads. That includes high-performance computing (HPC), cloud, business IT and networking. And they're certified by leading ISVs, including Microsoft, VMware and Nutanix.
If you're a distributor or reseller, you have yet another option: Intel can custom-build DCB servers to your specifications for workloads such as enterprise, cloud and HPC. For these projects, Intel will work with validated components to optimize the systems' performance and cost.
2nd gen for HPC, AI
The newest Intel DCB has been designed for use on HPC and AI applications. Known as the Intel Server System S9200WK, it's powered by Intel's Xeon Scalable Platinum 9200 processors.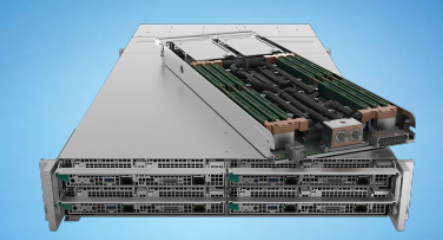 Intel Data Center Block with its liquid-cooling module
This is the first Intel DCB to support the high-performance Intel Xeon Scalable Platinum processor. It offers up to 4 compute modules per density-optimized 2U rack server, up to 24 DDR memory slots per compute module, and a choice of either air or liquid cooling. This DCB also supports Intel Deep Learning Boost, a technology that accelerates inference performance.
Are your customers concerned with the operational costs of heating? This DCB's advanced liquid-cooling option can help with that, too. It lowers TCO by first capturing the system's heat, then repurposing the heat to keep the building's infrastructure warm.
Vendor-specific refreshes, too
Several vendor-specific Intel DCBs are being upgraded to support the new 2nd Gen Intel Xeon Scalable processors, too. These include systems supporting VMware's vSAN Ready Nodes, Microsoft Windows Server and Nutanix Enterprise Cloud.
Intel DCBs are also compatible with several Intel Select Solutions. These third-party software applications have been verified to run on validated Intel Server Systems. They're also certified to run with ISV software, providing configurations with the highest levels of workload-optimized performance.
Several Intel Select Solutions are now available as part of a 2nd gen Intel Xeon Scalable-based Intel DCB portfolio. These include AI inferencing, Azure Stack HCI, VMWare vSAN, network function virtualization infrastructure, and visual cloud delivery network. More are promised for later this year.
Leverage the latest tech:
> Intel Data Center Blocks: configure to order
> 2nd Gen Intel Xeon Scalable processors: reseller resources
Back to top