Sometimes, the best choice is not having to choose.
That's the case with Intel Optane technology. Should you offer it as memory or as storage? The good news is, you don't have to choose. Intel Optane technology powers both memory and storage, and they can complement each other in the same system.
As you may know, Intel Optane technology is the company's memory and storage innovation. It combines endurance, high throughput and low latency.
For data centers, Intel Optane technology is offered in two form factors:
> Persistent memory: Offers high-performance intelligence, higher memory capacity than DRAM at a lower cost, and data persistence. If power is disrupted, data doesn't have to be reloaded into memory. And it provides much faster access to the CPU than reading from a typical NAND SSD.

> Storage: Solid state drives (SSDs) incorporating Intel Optane technology out-perform traditional 3D NAND SSDs. That paves the way for larger memory pools, fast caching and fast storage. All that, in turn, speeds applications and lowers transaction costs, especially for latency-sensitive workloads.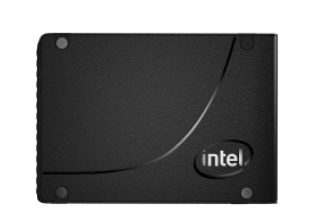 These two approaches complement each other. You can specify a single server to include Intel Optane persistent memory and storage, having both solutions work simultaneously for specific applications. Or, if you know a server is going to be used for a single application (or group of highly related applications), you can choose either Intel Optane memory or storage, based on the application's requirements.
So that's a choice of Intel Optane technology for storage, memory or both. However you choose, you win.
A bold new vision
Intel has a new vision for re-architecting the memory/storage hierarchy. Essentially, this vision creates a new border between memory and storage. The growth in data has increased the gap, and Intel Optane Technology seeks to fill it, as illustrated in this graphic, courtesy of Intel:
As you can see, Intel Optane technology occupies a new space in the traditional border between storage and memory. It improves the former's performance and the latter's capacity, reliability, affordability and persistence. Yet Intel Optane tech can also co-exist with older technologies — DRAM, 3D NAND SSDs, hard disk drives, even tape drives.
Persistent memory: ease the data crunch
For memory, Intel Optane technology addresses a growing problem, one that Intel calls the DRAM crunch. Here's the crunch: Data volumes are growing by up to 4x every three years, but the growth rate of DRAM density is actually slowing. The technology is approaching its limits.
Intel Optane persistent memory eases this crunch in three ways. One, it accelerates performance by keeping more data in memory. Two, it caches infrequently used data. And three, it tiers with application-aware data persistence.
These moves deliver real performance gains. According to Intel's own tests, Intel Optane persistent memory can:
> Accelerate: Oracle Database queries in memory get accelerated by up to 10x. And each MySQL server can handle up to 5x more users.
> Cache: Support up to 36% more virtual machines (VMs) with Microsoft SQL Server at no additional cost. And handle up to 87% more virtual desktop interface (VDI) users on VMware's Horizon VDI on vSAN.
> Tier: Deliver an up to 2.4x performance gain on SAP when compared with a three-year-old server. And speed Apache Spark queries by up to 8x compared with a DRAM/HDD setup.
What's more, Intel Optane persistent memory is supported by a lively ecosystem of both users and OEMs. Intel's technology is being used by leading organizations in industries that include healthcare, education and energy. And many of the industry's top OEMs now incorporate Intel Optane tech into their servers.
SSD storage accelerators
Intel Optane SSDs are storage accelerators that your customers can use to break through storage bottlenecks. Like persistent memory, Intel Optane storage delivers gains in three important areas:
> Accelerate: Here, Intel Optane SSDs are used for unique data sets that are stored separately from primary storage. That can include metadata, logging, indexing and journaling. Essentially, this is data about data. Applications can include MySQL, Ceph and MS-SQL.
> Cache: This involves temporarily copying or holding the hottest data in a layer below the application and above "regular" storage capacity. Applications include VMware vSAN, Microsoft Azure Stack HCI and Cisco Hyperflex.
> Tier: Intel Optane SSDs can intelligently store the hottest data. Intelligent data placement can enhance applications including Dell EMC PowerMax, IBM Spectrum Scale and Nutanix.
A simpler choice
Can't decide whether to choose Intel Optane technology for memory or storage?
No need to decide. Intel Optane persistent memory and Intel Optane SSDs work together. That can help you — and your customers — keep up with today's fast-paced growth in data.
Learn more:
> Intel Optane technology for data centers
> Intel Optane Technology (technology brief)
> Affordably Accomodate the Next Wave of Data Demands (selection guide)
> Intel Optane Technology: Memory or Storage? Both (technology brief)
> Gigaspaces and Intel Optane DC persistent memory (video)
Back to top