Are your customers looking for energy-efficient networking components they can run at various speeds and on existing cables?
If so, they have a new reason to be excited: Intel's newest generation of Ethernet network adapters are shipping.
These are the Intel Ethernet Network Adapters X710-T2L and X710-T4L. Introduced late last year, the T2L is a dual-port version (as indicated by the "2"), and it just started shipping. The other model, dubbed T4L, is a quad-port version (as indicated by the "4").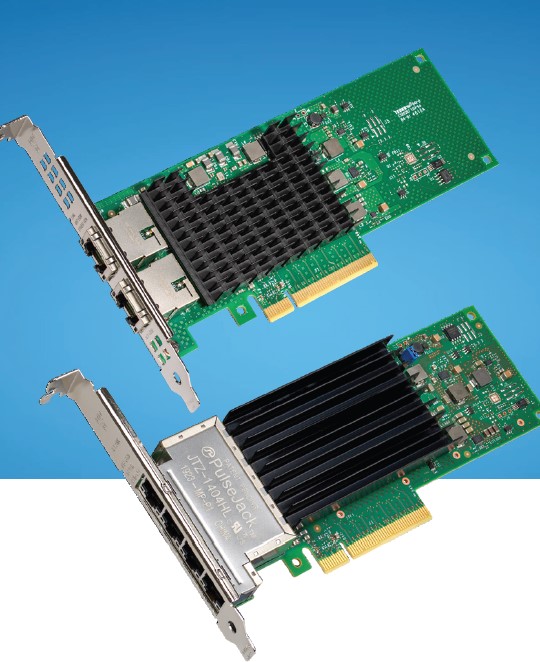 These new Intel Ethernet adapters, part of the company's Ethernet 700 Series, have been designed to meet the challenges of today's increasingly virtualized networks. These energy-efficient adapters support 1000BASE-T, NBASE-T and 10GBASE-T networks.
Virtually virtual
These adapters can support up to 128 virtual machines using Intel VMW technology. They also support VM load balancing, advanced packet filtering, the ability to create multiple VLAN segments, and powerful application performance in virtualized networks.
And when compared with the "old reliable" Intel Ethernet 500 series adapters, the new Intel Ethernet X710s provide more performance flexibility. Those older adapters run at 100 Mbps, 1 Gbps and 10 Gbps. By contrast, the new Intel X710 network adapters run at 100 Mbps, and 1, 2.5, 5 and 10 Gbps. And all on the same twisted-pair cabling.
That flexibility can come in handy. Today's wireless access points often need higher bandwidth. Wi-Fi 6, for example, delivers data rates of up to 2.4 Gbps.
Low power, high optimizations
As mentioned above, these new Ethernet network adapters are both energy-efficient and able to run over existing cables. (The "L" in the product name refers to "lower power.")
Here's an example: The older Intel Ethernet 500 series consumes 13W. when running at 10GbE. At that same speed, the new X710-T2L (again, the dual-port version) consumes just 9.6 W. That's a 27% reduction in power consumption from the network adapter.
Another cool feature is known as DDP, short for Dynamic Device Personalization. This empowers the new adapters to essentially look deeply into packet protocols such as those for mobile, cloud and NFV (network functions virtualization).
This, in turn, enables advanced packet filtering to a specific network device's queue, enabling workflow-specific optimizations.
The leading edge
The Intel Ethernet X710 network adapters are also a great stepping stone for your data-center customers stuck on the trailing edge.
Sure, if they run Intel's 500 Series network adapters, those network adapters are still actively sold and supported. But the company's newer 700 Series offers far more flexibility, plus the kinds of features demanded by today's virtual networks.
Check out the Intel Ethernet Network Adapter X710-T2L/T4L product brief.
Back to top