Intel today introduced its Xeon D-2100 processor, which brings the Xeon data-center architecture to a system-on-chip (SoC) designed for the edge.
If you or your larger customers offer edge, data-center or network applications that need to deliver greater performance and capacity, but are constrained by space and power, Intel's new SoC should be of interest.
Intel says the new Xeon D-2100, compared with the company's older D-1500 processor, offers performance improvements of up to 2.9x for network, 2.8x for storage, and 1.6x for compute.
With those performance boosts, the Intel Xeon D-2100 processor can help communications and cloud service providers. Other possible uses for the new Xeon D-2100 include storage, content delivery networks and enterprise networks.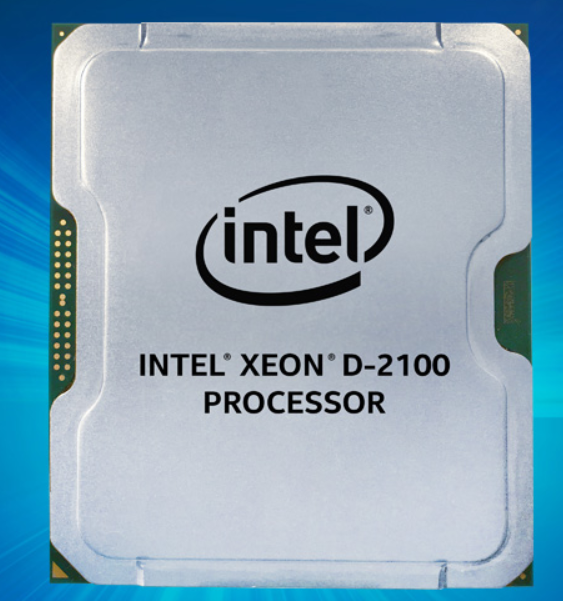 Under the hood
Designed and manufactured with Intel Mesh Architecture and using Intel's 14nm silicon process technology, the new Xeon D-2100 is available with a range of 4 to 18 cores. These cores are all based on Intel's "Skylake" Xeon processors. Also included are up to 512GB of addressable memory and as many as 4 integrated 10 Gbit Ethernet ports.
Intel's QuickAssist Technology (QAT) is integrated with up to 100 Gbps of built-in cryptography, decryption and encryption acceleration. QAT is designed to provide a software-enabled foundation for security, authentication and compression. Intel says it can significantly increase the performance and efficiency of standard platform solutions.
Also incorporated are the latest system-software updates to protect against the Spectre and Meltdown security exploits.
Hardware virtualization is built in, too. Intel Virtualization Technology enables dynamic provisioning of services as communication service providers extend network functions virtualization (NFV) to the edge. Intel says it supports scalable performance and broad application compatibility across all points of the network.
But wait, there's more. The new Xeon D-2100 also includes Intel's 64-bit software support, Turbo Boost 2.0 Technology, Speed Shift Technology and Hyper-Threading Technology.
How about pricing and shipment schedules? Neither has been announced yet, so watch this space.
3 key benefits
The new Xeon D-2100 processor offers you and your customers 3 key benefits, according to Intel:
> A data-center processor architecture in a form factor optimized for network, storage and cloud edge solutions.
> It's ideal for equipment makers seeking the best performance-per-watt in constrained operational space and power requirements. (The new SoC has a thermal design point, or TDP, of 60 to 110 watts.)
> Support for increasing endpoint demand, optimizing infrastructure, and capacity at the edge.
Sound interesting? Here are some online assets to help you explore the new Intel Xeon D-2100 processor:
Intel Xeon D-2100 product brief
"What Can 5G Do For You?" — SoundCloud podcast with Caroline Chan, general manager of 5G infrastructure, Intel
"Taking the Edge to New Heights" — IT Peer Network blog post by Jennifer Huffstetler, GM of data-center product management, Intel
Back to top