Batman & Robin. Ben & Jerry. Captain Kirk & Mr. Spock.
That's the power of partnering.
Now add to this impressive list a new pair: Cisco HyperFlex and Intel Optane SSDs.
You may know that HyperFlex is Cisco's fully engineered hyperconverged platform. Delivered as a cluster that combines hardware based on Intel Xeon Scalable processors and software designed by Cisco, HyperFlex runs Oracle, SAP HANA and Microsoft SQL database deployments quickly and at relatively low cost, and it's simple to manage.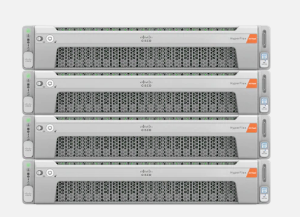 Cisco HyperFlex cluster
Recently Cisco has tuned the HyperFlex software to use Intel Optane SSDs (rather than NAND Flash) as its cache tier. The result is what Cisco calls its HyperFlex All-NVMe solution. It delivers the high performance and low latency that today's virtualized workloads and Tier-1 applications demand.
Striking gains
The benefits for your customers are powerful. In 2019 Cisco commissioned an audit from Enterprise Strategy Group (ESG) that compared the All-NVMe version of HyperFlex with its All-Flash version. And the results were striking. The All-NVMe implementation delivered:
> 71% more IOPS (input-output operations per second) for a simulated Oracle OLTP workload — and more IOPS is better.
> 37% lower latency with that same simulation — and less latency is better.
> 15% more storage efficiency due to less storage needed when using the Cisco HyperFlex Acceleration Engine, an optional feature that offloads certain operations from the CPUs.
Two other benefits are consistency and scalability. In its report, ESG called the Cisco HyperFlex All-NVMe solution's consistency of performance over time and across all virtual machines (VMs) in a cluster "particularly notable." ESG also praised the setup's ability to scale, which lets users adapt quickly to changing requirements.
The use of Intel Optane SSDs also reduces the write cache cost per terabyte. And it's fast, which is vital. In a hyperconverged setup, the cache needs to be faster than the capacity storage, in part to deal with high-write bursts.
Ready for the power of partnering? Cisco's HyperFlex All-NVMe solution is available from both Cisco and selected OEMs as a branded solution.
Explore the power of partnering:
> Cisco HyperFlex All-NVMe solution
> Intel Optane SSDs for the data center
> ESG report: Mission-critical hyperconverged workload performance testing on a Cisco HyperFlex All NVMe with Intel Optane DC SSD
Back to top