Timing is everything, they say. That's certainly true for today's 5G networks, which demand high-precision time synchronization.
Without this, 5G calls and video streams can drop … control systems can lose control … and machines that need to work together can instead clash.
Synchronizing systems from the cloud to the 5G edge requires a new level of time control. That's the idea behind the Intel Ethernet Network Adapter XXV710-DA2T.
This adapter is a lower-cost and scalable synchronization solution offering new levels of accuracy for network edge environments. Introduced in February, the Intel Ethernet Network Adapter XXV710-DA2T started shipping this month.
Optimized for 5G
The 25GbE XXV710-DA2T is Intel's first 5G-optimized network adapter. It's based on a 25GbE network interface controller (NIC). And it's designed to fit in a PCIe slot.
The adapter accesses external GPS/GNSS-based (devices) hardware-enhanced Precision Time Protocol with its subminiature type A (SMA) connectors. This provides cross-network service synchronization via hardware-enhanced Precision Time Protocol support.
The new adapter incorporates hardware-enhanced IEEE 1588 Precision Time Protocol (PTPv2), which time-stamps packets as they enter or exit. And its onboard clock delivers up to 2,500x greater precision than a standard Ethernet clock.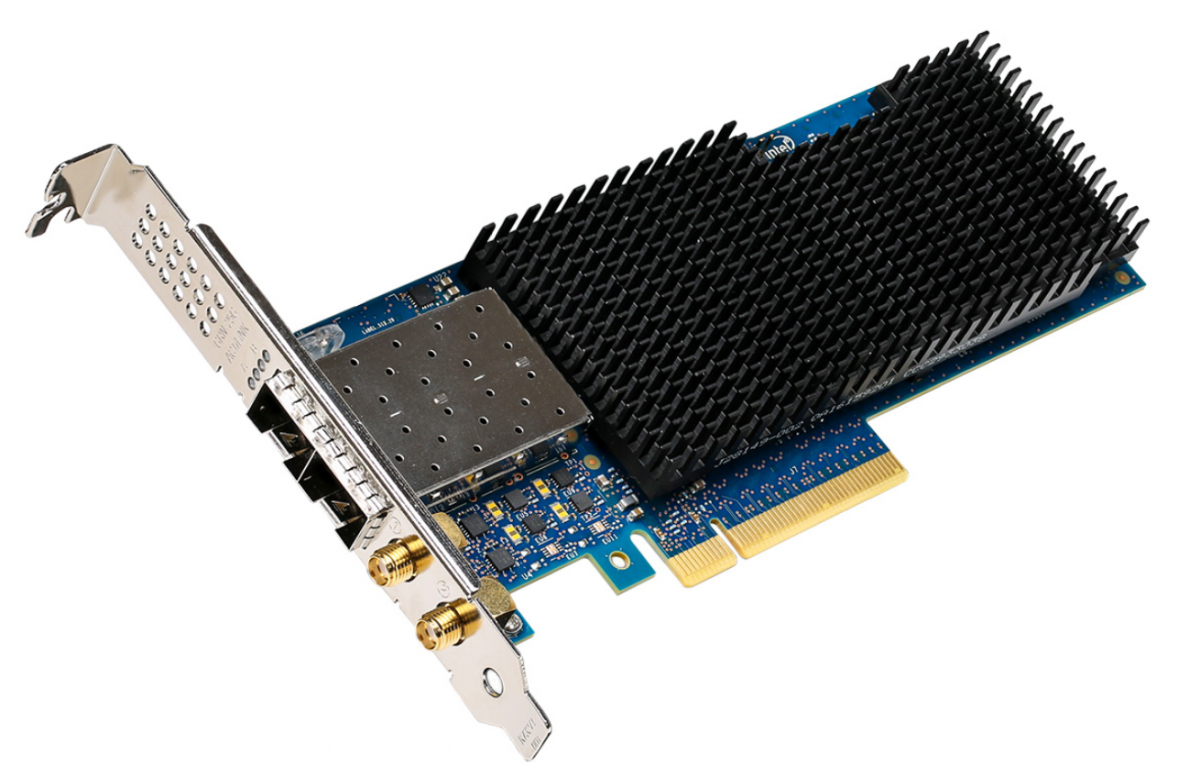 Intel Ethernet Network Adapter XXV710-DA2T
Intel's new adapter is a powerful solution for latency-sensitive 5G edge applications such as Open Radio Access Network (O-RAN), FlexRAN and macro cells. It's designed for use in industrial, financial services and energy transport applications.
Fast synching
The XXV710-DA2T features 4 connectors: 2 for Ethernet ports and 2 for coaxial cables. The coax ports can be used for synching or cascading 1 pulse-per-second (PPS) connections with other devices, and for auditing performance on each node. Many GPS units have 1PPS outputs, and this adapter can synchronize itself to the rising edge of these 1PPS pulses.
In this way, servers synchronized by the adapter can have their signals tightly aligned. Cellular base stations generally need to be synchronized to within 1.5 microseconds to hand off calls from one cell to another. Carriers often ask for synchronization within 100 nanoseconds or less.
This synchronization accuracy is especially important for edge devices on 5G networks, location services, smart energy grids, financial services and industrial-control systems.
For example, the adapter can help with cell-tower "trilateration," the process of determining a location using a 5G signal and the tower's location. If a base station can synchronize the time in its towers to within 75 nanoseconds using the XXV710-DA2T, then the operator can determine a location within a radius of 30 meters (approx. 98 feet), according to Intel. Previous solutions couldn't come close to this level of synchronization for the same cost.
Save money, too
Also, Intel's new adapter card enables accurate time synchronization across a network without requiring the added complexity and expense of specialty timing hardware. And the cost savings can be substantial.
According to Intel's own analysis, the savings can be in excess of 50%. In other words, your customers can buy a system using the XXV710-DA2T for less than half the cost of a comparable system equipped with specialized timing hardware.
To get this figure, Intel modeled two setups, one with the XXV710-DA2T, the other with specialized timing hardware. Both setups involve 2 racks of 16 servers each, for a total of 32 servers.

The big difference is that the system on the left (Fig. 1) requires dedicated hardware for specialized NICs and dedicated network time protocol (NTP) appliances, each of which adds about $2K to the total price.
By contrast, on the right (Fig. 2), the Intel Ethernet Network Adapter XXV710-DA2T configuration requires only an extra add-in GPS card, which costs just $150 to $200.
How do the total costs compare? For the non-XXV710-DA2T setup, you're looking at a cost range of $60,600 to $69K. The total cost range for the XXV710-DA2T setup? Just $26,550 to $33,200.
Spread the word
If your customers need highly accurate synchronization across their networks — and like to save money — tell them about the Intel Ethernet Network Adapter XXV710-DA2T.
And don't wait. Timing is everything.
Learn even more:
> Hardware-enhanced precision time control in Intel Ethernet 700 series (Intel product brief)
> Precision timing Intel Ethernet solution for 5G networks (Intel Builders blog post)
> Accelerating 5G network infrastructure, from the core to the edge (Intel product fact sheet)
Back to top