Are your customers shopping for the latest, greatest server technology? If so, they need to know about Intel's new offering, the Intel Programmable Acceleration Card with Arria 10 GX FPGA.
That's a long name for a small and powerful PCIe card that promises to change modern server architecture forever.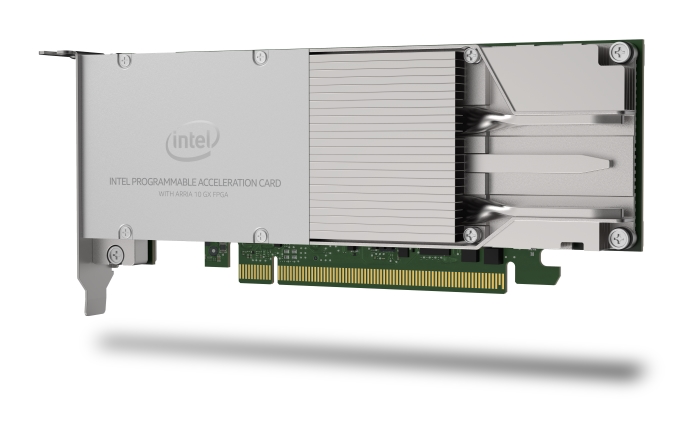 Intel's new Programmable Acceleration Card with FPGA
FPGA stands for Field Programmable Gate Array, which refers to the fact that OEMs can re-purpose and re-task these cards on the fly. That capability alone adds a whole new dimension of usability. For your data-center customers, it can also lower their total cost of ownership (TCO).
This innovative hardware/software solution is sampling now, and Intel says broad availability will come in the first half of next year.
F is for 'Faster'
If you're unfamiliar with FPGA technology, a good place to start is the bottom line: more speed for specific tasks. Think of it as the server-class equivalent to the hot-rod GPUs installed by hardcore gamers to increase the performance of their first-person shooters. Only, this hardware accelerator is designed to hasten tasks like genome sequencing, data analytics and storage.
How does an FPGA do all that? First, by offloading specific tasks from the server's primary processor. Then, by completing those tasks faster and more efficiently than a standard Xeon processor can.
Sure, Xeon is a heavy-duty workhorse. But it's designed mainly for standard server management processing.
By contrast, Intel's new programmable acceleration card (PAC) can be programmed to complete specific, highly resource-intensive tasks. That leaves the core processing system to conduct business as usual. It also increases efficiency, reduces power consumption and delivers a whole new level of versatility.
Ecosystem
To make the new FPGA solution a success, Intel plans to lean hard on its OEM ecosystem. For starters, the company has announced that Dell EMC will be a marquee launch partner for its first-generation PAC.
This means Dell will offer the Intel PAC card with FPGA in its Intel Xeon-powered servers. This makes sense for a number of reasons — not the least of which is the flood of vital feedback that will undoubtedly flow from Dell's engineering team back to Intel.
Given Dell's enviable market share, it also should ensure that a great many FPGA cards end up in servers around the world. This, in turn, should result in more use cases, leading to a marked increase in Intel-authored acceleration stacks providing industry-standard frameworks, interfaces and optimized libraries.
You could consider Intel's new technology just another cog in the machine. But the world's data centers are a lot more important than that. They connect people who are working to cure diseases, reduce polluting emissions and fulfill other vital tasks. So this is really a major step forward for a technology that serves humanity.
Learn more:
Product page: Intel Programmable Acceleration Card with Arria 10 GX FPGA
Intel video: Supercharge Your Data Center
Back to top