Sure, Dell is among the biggest PC suppliers in the world. But as the company's top officers are showing at their big conference this week, Dell wants to be a whole lot more. In fact, nothing less than the soup-to-nuts supplier for organizations undertaking digital transformation.
If that sounds ambitious, it is. But at the big Dell EMC World conference, being held May 8-11 in Las Vegas, Dell is certainly introducing the products and services that ambition will require.

Like Intel, Dell understands that the world is moving on from the PC. Also like Intel, Dell is scrambling to diversify, adding products and services for the cloud, data centers, virtualization and more. As part of this move, Dell last year acquired EMC, and the combined company is now the only major supplier offering everything from servers to networks to PCs.
New Products Galore
Had we but world enough and time, I'd detail every single product and service that Dell has introduced this week. Instead, here's a sampling that should give you a taste of where Dell is headed:
> Open Networking: Dell introduced 3 devices here. The S5100-ON series, a 25GbE open networking switch designed for Web, enterprise and cloud service providers; the S4100-ON series, an open networking switch that supports 32Gb Fibre Channel; and the N11-ON series, energy-efficient switches for campus environments.
> Flash Storage for Data Centers: Dell introduced 2 new devices, the VMAX 950F and XtremIO X2. The former is a high-end storage device that Dell says offers up to 68 percent more speed and 30 percent faster response times than its predecessors. The latter is a rack device offering a big price/performance boost over its predecessors.
> Servers: Dell this summer plans to ship its new 14th-generation PowerEdge servers powered by the new Intel Xeon Scalable Processor Family. The new servers, Dell says, have been designed for data centers, intelligent automation and integrated security.
> Software-Defined Storage: The announcements here include Project Nautilus, a new software-defined solution for storing and analyzing high volumes of streaming Internet of Things (IoT) data.
Dell this week also revealed that it had quietly launched a venture fund, Dell Technologies Capital, several years ago. Now it's going public. Dell's internal VC firm invests about $100 million a year, and it has already funded some 70 early-stage startups in technology areas that include storage, software-defined networking, AI, big data, IoT and DevOps.
Partners are Vital
As part of its big conference this week, Dell is also hosting a Global Partner Summit in Vegas, and it has reportedly attracted some 4,000 Dell partners.
Speakers at the partner summit have included Dell's CEO and founder, Michael Dell; channel president John Byrne; and VP of technology, Josh Bernstein. Intel's data-center GM, Diane Bryant, was also among the speakers.
As our sister site CRN reports, Michael Dell told the assembled partners: "You are integral to our business and to our go-to-market. When we think about the evolution of our solutions and the capabilities that we have, you all play an enormous role in bringing those solutions out and making them real for our customers."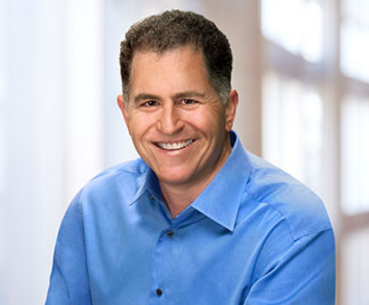 Michael Dell: Partners are "integral to our business."
And PCs? While they aren't getting much love at the big conference this week, PCs still matter a great deal to Dell. The company is the third biggest supplier worldwide, according to the most recent figures from IDC. The market watcher figures that Dell sold 9.57 million PCs in the first quarter of this year, 6 percent more than it sold in the year-earlier period. That puts Dell's current share of the global PC market at about 16 percent, meaning it trails only HP and Lenovo.
Pretty good for a company started in a University of Texas at Austin dorm room back in 1984. Earlier this week Michael Dell told an interviewer from SiliconAngle, "The next 33 years will actually be much, much more exciting…..If you're not excited now, you're either completely asleep or you're dead."
ADDENDUM: For more on Dell's reliance on PCs, see this May 10 update from our sister site CRN: Dell North America Sales Chief: 'Winning In Both Consumer And Commercial PCs' Is Key.
Back to top