Nearly 60 percent of organizations now use cloud-based productivity suites from either Microsoft or Google. One in 10 companies now uses single sign-on. And about 1 in 3 have tried Slack.
These figures come from the third annual cloud-adoption report from BitGlass, a cloud access security broker. The report, released last week, provides solution providers with an inside look at cloud adoption among your clients and others.
To get its figures, BitGlass used a combination of mail exchange records and custom scripts on more than 120,000 unique domains. In this way, the company says, its researchers were able to identify the mail and identify providers used by each organization.
Here are the high points from the BitGlass report:
> Microsoft and Google battle for the productivity cloud: Nearly 60 percent of organizations worldwide use either Microsoft's Office 365 or Google's G Suite, up from less than 50 percent a year ago. Office 365 is used by just over a third (35%) of organizations, up from a quarter (25%) a year ago. G Suite is used by nearly a quarter (24%) of organizations, up only slightly from a year ago, as this pie chart, courtesy of BitGlass, illustrates: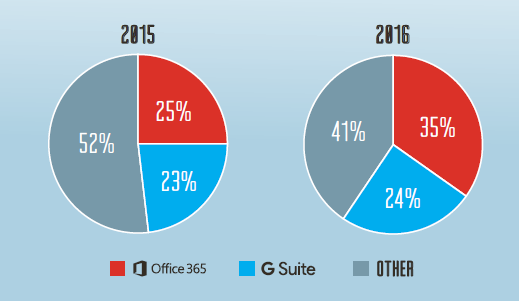 Among large U.S. enterprises — those with more than 1,000 employees — nearly half (48%) have adopted Office 365, while only a quarter (25%) have adopted G Suite. Publicly held companies favor Office 365 over Google's suite, too, by a margin of nearly 2 to 1.
> Single sign-on: This security measure has been adopted by about 10 percent of organizations. Among organizations using Office 365, slightly more than a quarter (26%) have adopted SSO, up from about one in five (22%) a year ago. And among those using G Suite, SSO has been adopted by only 5.5 percent.
> Slack attack: Slack, the cloud-based messaging app for teams, has been tried by a third (33%) of all enterprises worldwide. Usage typically begins with individual users who opt for the free version, BitGlass says, leading to adoption that has "surpassed all expectations" and made Slack the industry's fastest-growing enterprise cloud service.
> Cross-app security: BitGlass predicts that in 2017 and beyond, cross-app security will become a top IT concern. As enterprises adopt multiple cloud apps — not just Office365, but also G Suite, Slack, Salesforce and others — they'll need a way to keep their systems and data safe, secure and private.
Back to top