For enterprises, the private cloud is driving the next wave of growth. Their data centers are changing, too. With some 50 billion devices expected worldwide by 2020, up to 85 percent of all applications could then be delivered via the cloud.
In the past, enterprise data centers were homes for dedicated servers, storage and monolithic enterprise applications. Now they're becoming cloud hubs. They'll house highly virtualized servers that deliver private cloud services to the business, while also connecting securely with the public cloud.
Private clouds will remain essential for confidential data and highly regulated applications. That could be data from European customers, subject to new EU data-protection rules. Or credit-card numbers for PR-conscious retailers.
The public cloud, meanwhile, should continue to deliver low-cost services for application testing and development. It will offer scalable, on-demand storage capacity during peak periods, too.
Sounds good, but there can be a catch — actually, several. Private clouds have turned out to be more expensive and complex than expected, as well as less flexible. Enterprise software can be surprisingly expensive. And cloud-management software can be complicated to deploy.
The HCI Solution
What can you and your customers do about it? Glad you asked.
Intel has recently partnered with OnApp, a leading supplier of cloud-management software, to create a private cloud kit that you can white-label to your SMB customers. The new solution brings the simplicity and convenience of the public cloud to the enterprise data center. It does so quickly, without weeks of development. And the cost is surprisingly low.
This Hyperconverged Infrastructure (HCI) solution combines an Intel server chassis powered by Intel Xeon processors with OnApp's software orchestration, including virtualization management, software-defined storage and user management -- all in one turnkey solution.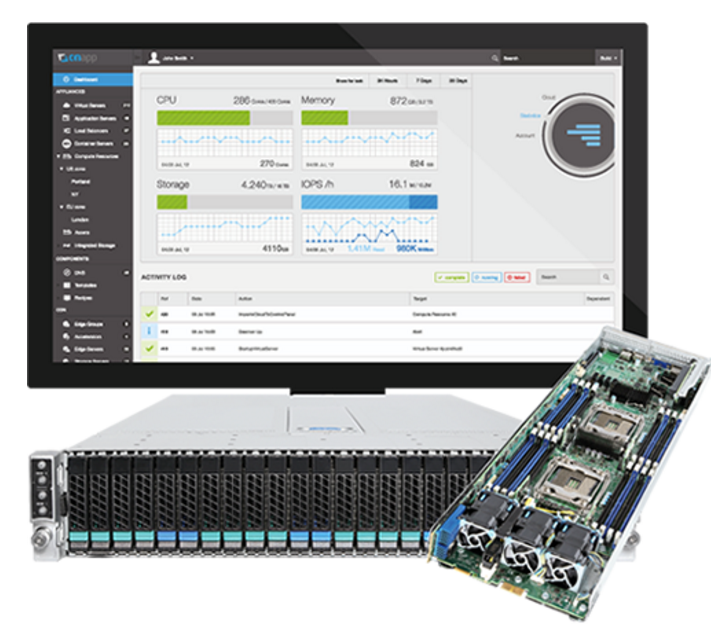 The Intel/OnApp HCI solution promises a fast & easy private cloud.
The Intel/OnApp solution offers you and your customers 4 big benefits:
> Turnkey: So you can deploy a private cloud in hours, not days or weeks.
> Low cost: Less than a third the price of other private-cloud solutions.
> Intuitive: Easy to sell, deploy, manage and use.
> Scalable & flexible: Provides a platform for application delivery, containers, cloud instances and more. Plus, it scales from one appliance to many in multiple locations.
The benefits are attractive. For IT, the HCI solution helps improve control of technology assets and user access, and leverages cloud automation to create a more agile IT department. For finance and managers, the solution improves efficiency and IT responsiveness to business needs, improving the ROI from their IT assets. For lines of business and end users, the HCI solution makes it easy for employees to self-serve the IT resources they need to perform, safely within constraints set by IT and the business.
Whether you're a service provider or solution provider, the HCI solution offers you a cool new way to move customers to hybrid and private clouds.
Learn more about the Intel/OnApp turnkey private cloud.
Back to top