It's August already, and summer's lease has less than a month to go. Planning a last-minute vacation? Take along any of these 6 new books, or download them to your phone or tablet, and enhance your tech knowledge while you relax.
The Fifth Domain: Defending our Country, our Companies, and Ourselves in the Age of Cyber Threats
By Richard A. Clarke and Robert K. Knake
> Summary: We don't have to let autocrats and criminals run amok in the "fifth domain" — the Pentagon's term for cyberspace. We already know how to defend our security, economy, democracy and privacy from cyberattack. Let's do it!
> Sample excerpt: "…cyberspace is man-made. It can therefore be changed by man. It is a positive attribute of cyberspace that once a weapon has been used and discovered, it can be blocked."
> Fun fact:  Co-author Clarke served for 30 years in U.S. national security policy roles, including work for the Pentagon, State Department and White House.
The Code: Silicon Valley and the Remaking of America
By Margaret O'Mara
> Summary: Big tech has been transformed into the "engine room" of the U.S. economy. Here's a narrative take on the Valley's history, starting at Stanford University in 1949 and zooming all the way to the present.
> Sample excerpt: "Ronald Reagan was right. The high-tech revolution was an only-in-America story."
> Fun fact: Author O'Mara got her first taste of the Internet working in the White House for Bill Clinton and Al Gore.
Faster, Smarter, Louder: Master Attention in a Noisy Digital Market
By Aaron Agius and Gián Clancey
> Summary: Tech savvy isn't enough. Successful brands now also need social strategies designed to draw in customers, and keep them. Without a strong digital platform, no amount of time, money or content is enough. Here's a plan to help your brand thrive.
> Sample excerpt: "If you're reading this, you're probably fighting for your vision at this very moment. Like us, you've probably spent countless hours in coffee shops trying dozens of strategies to get noticed, make an impact, and grow your brand."
> Fun fact: The authors are co-founders of a digital agency, Louder.Online.
Why Digital Transformations Fail: The Surprising Disciplines of How to Take Off and Stay Ahead
By Tony Saldanha
> Summary: More than two-thirds of digital transformations fail. And for two main reasons: They lack both clear goals and a process for achieving them. To fix this, organizations should adopt a five-stage model and disciplined process for executing it.
> Sample excerpt: "The battle to survive in the Fourth Industrial Revolution isn't going to be easy, but it is possible."
> Fun fact: The author is a former VP of IT and shared services at consumer-products giant Procter & Gamble.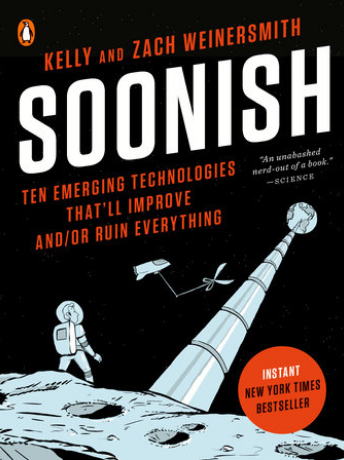 Soonish: Ten Emerging Technologies That'll Improve and/or Ruin Everything
By Kelly Weinersmith and Zach Weinersmith
> Summary: Coming soon, or at least soonish, are 10 cool technologies that include robot swarms, nuclear-fusion-powered toasters, and bioprinting your new liver, according to this fun, illustrated guide.
> Sample excerpt: "Fortunately, predicting the future is pretty easy. People do it all the time. Getting your predictions right is a bit harder, but honestly, does anyone really care?"
> Fun fact: The authors, a married couple, form an unusual collaboration: Kelly W. is a researcher, and Zach W. is a cartoonist and the creator of the webcomic "Sunday Morning Breakfast."
Artificial Intelligence in Practice: How 50 Successful Companies Used AI and Machine Learning to Solve Problems
By Bernard Marr with Matt Ward
> Summary: AI is passing from science fiction to science fact. Companies now use AI to solve business challenges, improve performance and efficiency, analyze market preferences and much more.
> Sample excerpt: "One thing is very clear, artificial intelligence is going to change our world forever."
> Fun fact: Author Marr has also written books on how companies use big data and analytics.
MORE: Check out 6 other new tech-themed books for your summer reading.
Back to top