The Grace Hopper Celebration of Women in Computing is underway this week in Houston. That makes now a good time to consider the important role of women in technology — as well as what could be a troubled outlook for women technologists in the future.
Grace Hopper, of course, was among the early computing pioneers. She was a programmer back in the 1940s, inventor of the first compiler, and widely if perhaps inaccurately known as the originator of the term "computer bug."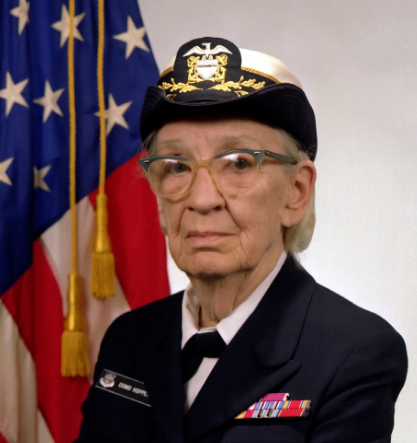 The conference named for her is billing itself as "the world's largest gathering of women technologists." It's being produced by the Anita Borg Institute, a social enterprise that works to advance women in tech, in collaboration with the ACM. Scheduled speakers include Megan Smith, CTO of the U.S. federal government; Ginni Rometty, CEO of IBM; Latanya Sweeney, a professor at Harvard and director of the Data Privacy Lab; and two executives from Intel, CEO Brian Krzanich and chief diversity officer Danielle Brown.
Computing pioneer Grace Hopper — minus her bug.
Celebratory conferences aside, the outlook for women in IT is less than great, according to a new research report, released today by Accenture and Girls Who Code. They find the number of women in the U.S. computing workforce declining. Their report, Cracking the Gender Code, says that roughly a quarter (24%) of the U.S. computing workforce is now women, but by 2025, that will drop to about a fifth (22%).
"Despite unprecedented attention and momentum behind the push for universal computer-science education, the gender gap in computing is getting worse," says Reshma Saujani, CEO of Girls Who Code, a nonprofit organization dedicated to closing IT's gender gap. "The message is clear: A one-size-fits-all model won't work."
In theory, at least, there could be more women in the workforce, not fewer. Demand for computing skills far outstrips supply, as you undoubtedly know if you've tried to hire anyone lately! Last year, Accenture says, the U.S. had half a million open computing jobs, but fewer than 40,000 new computer-science graduates to fill them.
Girls in School
What's the best way to get more women into IT, including the channel? Accenture and Girls Who Code have 3 main suggestions:
> Spark girls' tech interest in high school: It may take special effort. Even when high-school boys and girls are exposed equally to computing, boys show a 26 percent higher interest in computing as a major.
> Sustain girls' tech interest in high school: One key may be adding female teachers. That drives girls' interest in computing is significantly higher, Accenture says.
> Inspire young women to pursue tech careers after college: A good way, Accenture says, would be to offer all undergrads programs in computing and programming. A related degree is not required; in fact, more than half the women in computing studied for the report didn't major in computer science while in college.
How effective could these changes be? Very, say the report's authors. They believe their "fresh approach" could help increase the number of women in computing to 3.9 million by 2025. That would lift women's representation in the U.S. computing workforce from today's 24 percent to nearly 40 percent.
Check out related content:
Women of the Channel 2016: CRN
Looking to make your business more diverse? Here's expert help
Back to top