Are you ready for the truly connected home? In just a few years, the average smart home will contain as many as 50 connected devices, according to Intel.
These devices will become part of the Internet of Things (IoT). They'll add to a global network of intelligent, connected devices that is changing the way we live and work. It's also a potential business opportunity for smart solution providers.
The key to the next generation of successful smart-home integrations will be local networks. These networks will need to deliver consistent gigabit-broadband connectivity to a wide variety of home devices. That means new networking hardware.
For this reason, Intel is arming ecosystem providers with its Intel Home Wi-Fi Development Kit. Intel's new standard is currently being used by OEMs and providers, including ASUS, Deutsche Telekom and Netgear.
They're using the kit to create a selection of Intel-based routers and gateways. The larger goal: pace the growing demand for faster speeds and more-connected devices.
This new batch of networking hardware will act as the central hub in connected homes. Intel says its unique Wi-Fi kit will let these hubs connect as many as 128 clients simultaneously. The hubs will also maintain consistent, high-speed connectivity, even as connected devices — and their demands for bandwidth — come and go. That's no small feat!
Smarter homes tomorrow
Tomorrow's connected home will offer a long list of powerful capabilities. Universal control of entertainment systems is just the beginning. You can also expect to see a totally integrated network. Appliances, security systems, climate-control components and other nearby digital devices will all provide and share information.
Tomorrow's home network will also track users from room to room, turning on lights, adjusting the temperature, and announcing the arrival of guests it recognizes via biometric identification. It will know where you're going, warn you to leave early if there is traffic on your route, and keep a digital eye on the house while you're gone. It might even remind you to pick up milk and eggs on the way home!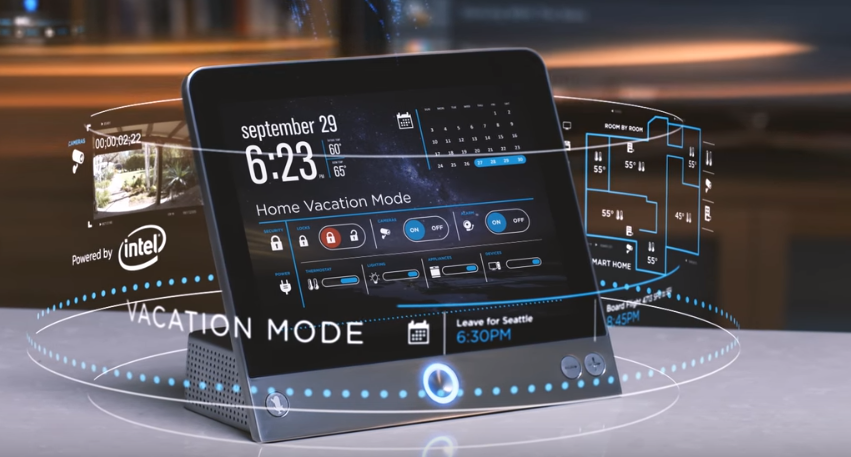 Networked smart-home devices will not only collect information, but also learn to help manage events.
(Image courtesy of Intel)
Watching one of Intel's smartly produced connected home videos can be an eye-opening experience. Not just because of how the smart home functions, but also because of the way it's learning. The connected home will understand more than just what users do. It will also attempt to analyze why.
Over time, this kind of intelligence should be able to anticipate user's needs. This, in turn, could save time and money, strengthen security, and assist both elderly and disabled users.
This cutting-edge home technology is within our grasp. But it won't fulfill its promise unless we can supply a disparate array of smart devices. These devices will need high-speed connectivity to the servers that power their intelligence.
That's where you and your customers come in. The future is emerging as we speak. It's time to get ready.
You may also enjoy:
Home tech: what's needed to attract more adopters
Back to top