What will this week's U.S. elections mean for solution providers and others in the tech industry? Will President-elect Trump help solution providers, hurt them, or end up somewhere in between? As they say on TV, only time will tell. For now, here's your roundup of some early IT industry responses.
Small businesses should benefit from a Donald Trump presidency, solution providers told CRN, in part because the President-elect has pledged to lower business taxes and repeal the Affordable Care Act. "Costs have gone up incredibly with Obamacare," Bob Swensen, president of Total Technology Solutions, told CRN. Added Zack Ley, controller at PennComp: "Tax reform has been a long time coming."
Many Silicon Valley executives are feeling less optimistic. The Wall Street Journal reports that the Valley sees Trump's victory as a "blow." Indeed, Trump has previously given Valley companies a hard time. He called for a consumer boycott of Apple over its refusal to help the FBI unlock an iPhone associated with last year's San Bernadino, Calif., shootings. He threatened antitrust action against Amazon. And he demanded that Apple and other tech suppliers build their products in the U.S., reports Reuters. Shervin Pishevar, a venture capitalist with Sherpa Capital, gave the New York Times this pithy response to the election results: "The horror, the horror." Added Stewart Butterfield, co-founder of messaging service Slack, "I'm heartbroken."
The response from some social media executives has been more measured. Mark Zuckerberg, founder and CEO of Facebook, posted this reaction on the site: "We are all blessed to have the ability to make the world better, and we have the responsibility to do it. Let's go work even harder." As of this morning, Zuckerberg's post had received nearly 10,500 replies.
Microsoft officials have also used social media to register their responses. CEO Satya Nadella posted his response on LinkedIn, writing, in part: "We congratulate the president-elect, and look forward to working with all those elected yesterday. Our commitment to our mission and values are steadfast, and in particular fostering a diverse and inclusive culture." Brad Smith, Microsoft's president and chief legal officer, wrote in a company blog post, "It's a good time for all of us to listen and to learn from each other."
Over at Apple, CEO Tim Cook issued a memo to all company employees. According to Buzzfeed, which published the full text, Cook wrote, "Regardless of which candidate each of us supported as individuals, the only way to move forward is to move forward together."
H1-B visas are another top issue that has the tech industry wondering. Immigration was a top issue for candidate Trump, and he clearly wants fewer foreign workers in the U.S., and more jobs for Americans. But change won't be easy, according to Ron Hira, an associate professor at Howard University. He told Computerworld, "Business interest groups will be out in full force trying to stop any sensible reform."
Perhaps the most extreme negative reaction came from tech blog VR-Zone. The site just published an article on Virtual Reality experiences to escape the Trump presidency. "Now is the time," the article says, "to invest in a Virtual Reality headset and escape into a more pleasing reality."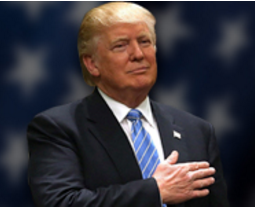 You may also enjoy:
Who'd be the better U.S. president for solution providers?
Thousands of IT jobs added last month
Back to top