What's coming in technology's future? AI? VR? Robotics? Analytics? The cloud?
All of the above, and then some, is Intel's answer.
Intel's CEO, CFO and other senior executives laid out their vision for the future at the company's annual investor meeting, held last week in Santa Clara, Calif.
At the core of Intel's new vision is data. Intel CEO Brian Krzanich (pictured below), in his presentation to investors last week, called Intel "a data company" and said data is "the most important force in technology."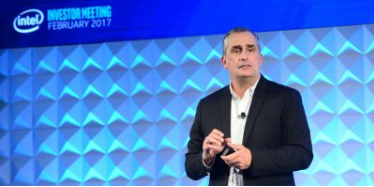 Behind Intel's new perspective is the company's expectation that data quantities will soon become huge. How huge? Intel forecasts that by 2020, the average individual user will alone generate some 1.56 GB of data traffic every day. That's a lot. But by that same year, Intel predicts, the average autonomous car will generate 4 terabytes a day, and the average smart factory will generate 1 petabyte a day.
It's happening already. During the recent Super Bowl, Intel's 360-degree replay of the game generated 2 TB per minute. That's beaucoup data.
Analytics adds value
But wait, there's more. All that data has to be made sense of. Intel believes that data is more or less worthless by itself. To add value, you have to apply analytics.
Cloud will be an essential component, Krzanich told investors, because that's where data will be taken to be analyzed. In Intel's vision, data will be generated on the ground (in a car, factory, etc.), then sent to the cloud for applying analytics, and then sent back to the user in a value-added form.
5G is necessary too, Intel believes. Current networks simply can't handle these new data volumes. Intel expects autonomous cars and robotics to be two applications driving demand for faster 5G data networks.
8th Gen Core coming
Intel still plans to continue developing microprocessors for PCs and servers. In fact, Murthy Renduchintala, president of Intel's clients, IoT and systems architecture, confirmed at the investors meeting that Intel plans to announce its 8th Generation Intel Core processors in the second half of this year.
Compared with the current 7th gen Intel Core processors, he added, the 8th Gen processors have demonstrated SysMark performance improvements of 15 percent, even though they continue to utilize the current 14nm architecture, as shown in Renduchintala's slide below. He also said Intel expects to announce microprocessors based on 10nm tech in 2018.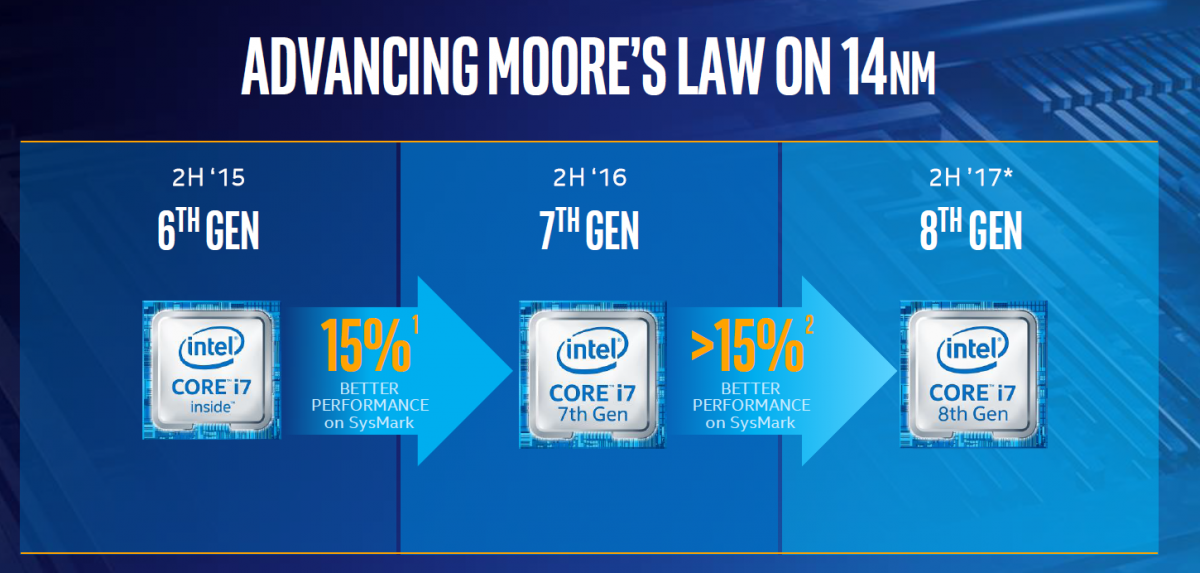 How about PCs? Intel says the business is no longer monolithic. Instead, it's several distinct markets, distinguished from one another by performance, form factor and user experience. According to this view, Intel expects to see continued growth in four PC markets: enthusiast/gaming systems, 2-in-1s, VR and systems for the smart home.
The future of technology? Intel just wants to say one word to you: data.
Also see:
Intel Unite collaboration solution gets 4 updates
Toshiba intros PCs with 7th Gen Intel Core processors
Intel Compute Card: computing platform the size of credit card
Back to top