When it comes to artificial intelligence, Intel is not only talking the talk, but also walking the walk.
First the talk. This past November, in an online editorial entitled "Intel's AI commitment to deliver a better world," Intel CEO Brian Krzanich wrote that AI is not just a cool new technology, but "the next major turning point in human history." He also promised that Intel would make major investments in AI technology.
Not coincidentally, Intel had two months earlier announced its intention to acquire Movidius, a Silicon Valley-based developer of programmable, ultra-low-power vision processors. At the time, Intel said it would combine the Movidius processors with its own RealSense technology, which uses various sensing technologies to achieve depth perception, 3-D imaging, interior mapping and feature tracking
One smart camera
Now the walk. Intel's Movidius acquisition is showing results. Last week Dahua Technology USA, the U.S. arm of a Chinese maker of video-surveillance cameras, announced that it would use Movidius's Myriad 2 vision processing unit (VPU) in future cameras. The Movidius VPUs will provide advanced intelligence functions that train the camera to gather, analyze and retain information "much like the human brain," Dahua said.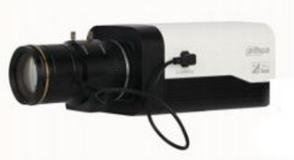 Dahua will use Movidius VPUs to give its HD cameras human-like functions.
How much like a human? Well, Dahua says its 2MP High Definition box camera, powered by a Movidius VPU, will offer crowd-density monitoring, stereoscopic vision, facial recognition, people counting, behavior analysis and even detection of illegally parked vehicles. For facial recognition, Dahua says its camera will be able to detect whether a person is male or female, if they're wearing glasses, their age range, and even their emotion. That's pretty human-like.
Separately, Intel last week said it's collaborating with Preferred Networks (PFN), the Japanese developer of Chainer, a flexible framework for neural networks. The goal of this new collaboration, Intel says, is to accelerate deep-learning performance on general-purpose infrastructures powered by Intel.
Fast-growing AI market
There's lots at stake for both Intel and its partners. Intel built its fortune on supplying PC processors, but the PC business is idling. Meanwhile, the potential for AI is huge.
Market watcher IDC recently predicted that worldwide revenue from AI and what it calls "cognitive systems" will enjoy a compound annual growth rate (CAGR) over the next few years of 55 percent, rising from $8 billion last year to $47 billion by 2020.
In part, that's because new commercial applications for AI abound. They include customer service, quality systems, medical diagnosis and treatments, fraud analysis, public safety, pharmaceutical research, supply and logistics, and fleet management.
And that PC business? IDC expects PC unit shipments to shrink over the next 5 years with a negative CAGR of -0.8 percent. A total of 435 million PCs shipped last year, but by 2021, IDC predicts, that will drop to 418.2 million units.
You know the old saying: A rising tide lifts all boats. Well, the AI tide is rising, and Intel has boarded ship. How about you?
Also see:
Intel wants to change how your PC clients use memory
Surveillance systems getting a whole lot smarter
Why Intel is paying $15.3 billion to buy IoT supplier Mobileye
Back to top